So I went cross boarder shopping over the weekend and spotted a few gems... Ok, so I did more than just spot most of them, I just had to bring some of these home with me! First up, Sunful Colors from Rite Aid, Treasure Chest and Purple Gleam.
Treasure Chest is a teal blue textured polish with gold shimmer. This week I have purchased 5 texture polishes, the first ones of my collection. This looks to be a mix of the China Glaze and Zoya textures from what I saw seen in regards to texture.


Purple Gleam is a medium purple base with gold shimmer, same texture/formula as Treasure Chest. My swatches show one coat, great formula!


I was super excited to find the Christmas collections out at Sally's, it sounds a bit nutso but I'm glad to get my hands on the polishes I want early so I don't have to search for them later. I picked up four China Glaze polishes,
Tremendous is a grass/gold green glitter, it appears to be in a clear base. This glitter applied well, two coats are shown in my swatches with no topcoat.
All Wrapped Up is a purple based blue glitter in a slightly tinted base of the same shade. This glitter also applied well, two coats without topcoat are shown in my swatches below.
Bells Will Be Blinging was my favorite out of the whole collection when I first saw the press photos. It is comprised of various sized/shaped blue, shiver gold and holo glitter in a clear base. I had anticipated it to be a brighter blue, however it is still very pretty. Two thick coats with no topcoat is shown.
Your Present Required is a glitterbomb! Another very unique polish, is is comprised of hex glitter in various sizes of mainly purple, blue, gold, copper, silver and matte white. I also see a few specks of green hidden in the bottle. The matte white glitter remindes me of snow :) One coat is shown, I liked this one a lot more than I thought I would. I can't wait to try some jelly sandwiches with this one!
Next stop, The Christmas Tree Store. This place has the most random grouping of items, but I was lucky enough to find a long sought after Milani and Sally Hansen Magnetic.
Milani Cyberspace , is a sky blue scattered holo. I picked this up for $1! Three swatches are shown below, the formula is thin but buildable.
Sally Hansen Silver Elements, I'm not a huge fan of magnetic polishes in general, I can never seem to get them to work properly lol. I did like the shade of the polish in the bottle on its own. It appears to be a blue/pink duochrome with duochrome glitter in a silver, chrome-like base. My swatch shows two coats, with no magnetic effect. I picked this up for $2!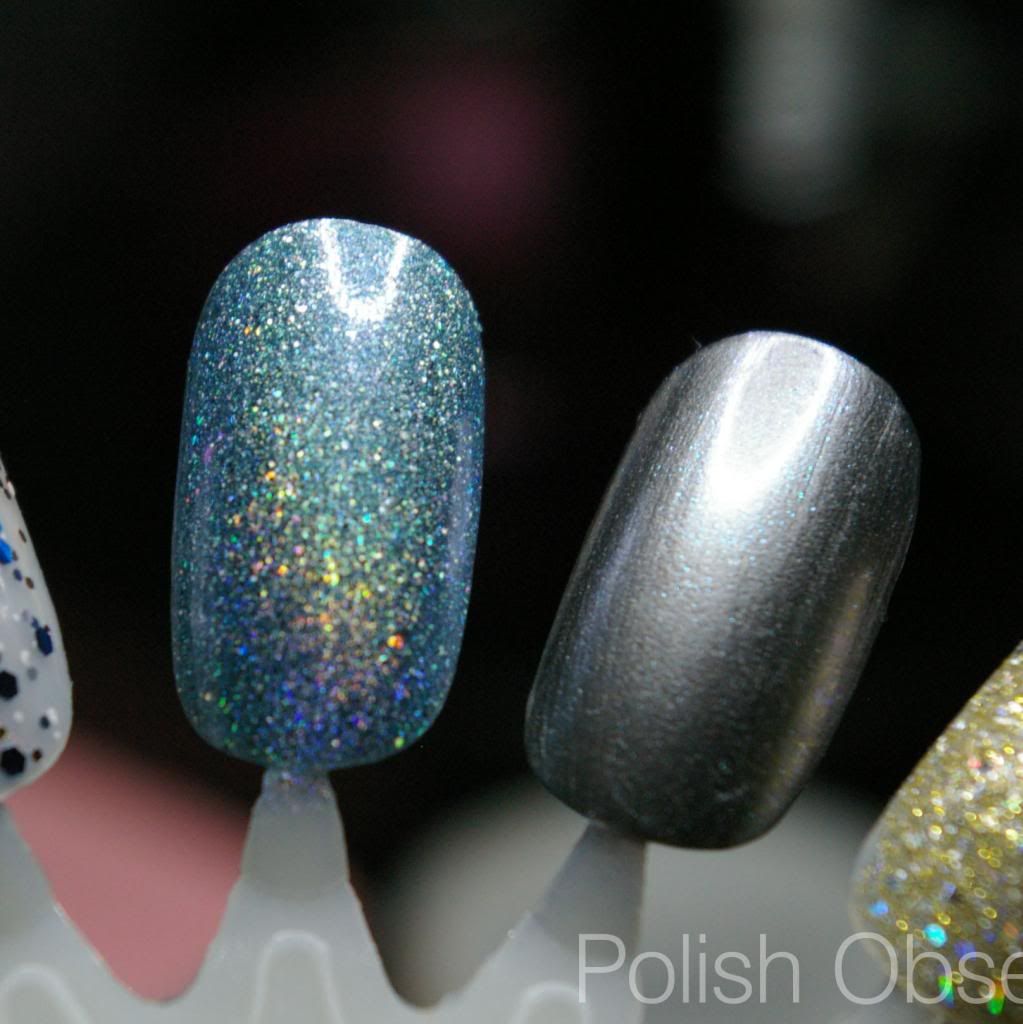 Last stop, Marshalls. I spotted a few double packs of OPI's, mostly from the first Mariah Carry collaboration. My pack was Get Your Number and Can't Let Go. I seriously love these! I'm actually surprised I did. This particular pack looked to come with a gift of some sort, but I isn't realize until I got home that it was removed or stolen. For $7.99 you still cannot go wrong! If you know what gift came with this pack, let me know :)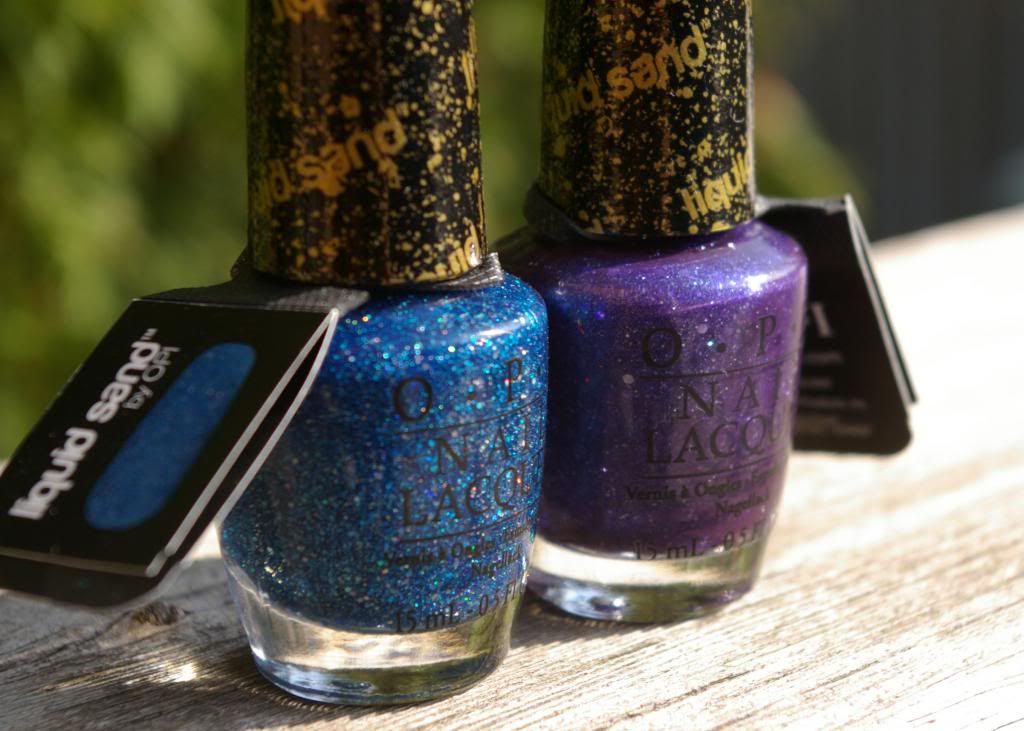 Get Your Number is a jelly blue polish with loads of holo glitter. When dry this reminds me of some sort of blue raspberry sour candy! Super awesome. Two coats are shown in my swatch.
Can't Let Go is a purple "liquid sand" polish with some hex glitter thrown in the mix. No holo, sparkly glitter in this one, two coats are shown in my swatches.
So that wraps it up! Lots of polish for me this last month, I have another huge haul post coming up soon from Cherry Cultures 40% off sale.