I headed across the border over the weekend and picked up a few polishes, as usual. I didn't expect my haul to be so awesome, but it totally is! I got some awesome deals too due to in-store promos and coupons. First stop was Rite Aid, they had various polish brands buy one get one half off. I picked up two Sinful Colors and two NYC polishes. The NYC BOGOs are nothing special, just stocking up on a great topcoat I rediscovered recently, NYC in a New York Minute quick dry, Grand Central Station x2.
Cream soda is a pink based coral pastel creme with a slight silver shimmer and Daisy Daze has got to be the lightest pastel yellow I now own. Almost an off white with yellow undertones, think Illimasqua Load. One thick coat is shown in the swatch below, two medium coats for Cream Soda.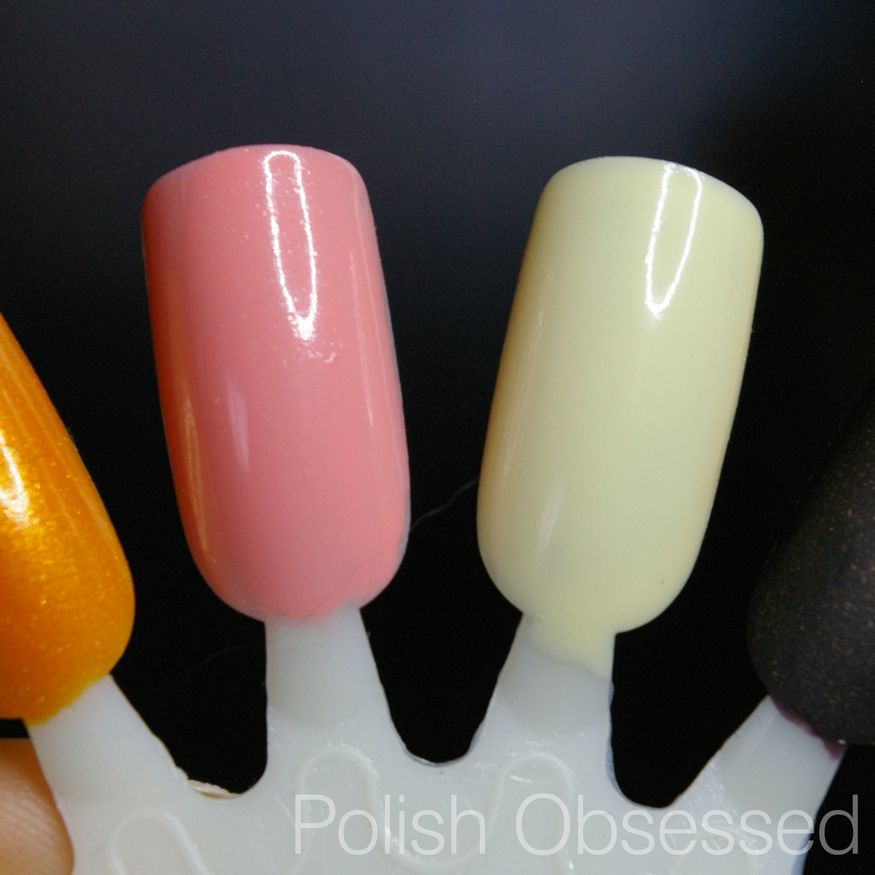 I saw both of the new spring displays out for Sinful Colors, both beautiful collections of colour as a whole I totally would have picked up more colours if I didn't already own some similar shades and was being selective.
The Oh My Mod collection on the left has deeper hues while the Mod in Bloom collection contains lighter pastels.
Next I hit up Wal Mart and finally found Sinful Colors Leather Loose! I had been looking for this for a few months now and found it in the most unlikely place, a Sinful end cap with a random assortment of polishes, woohoo!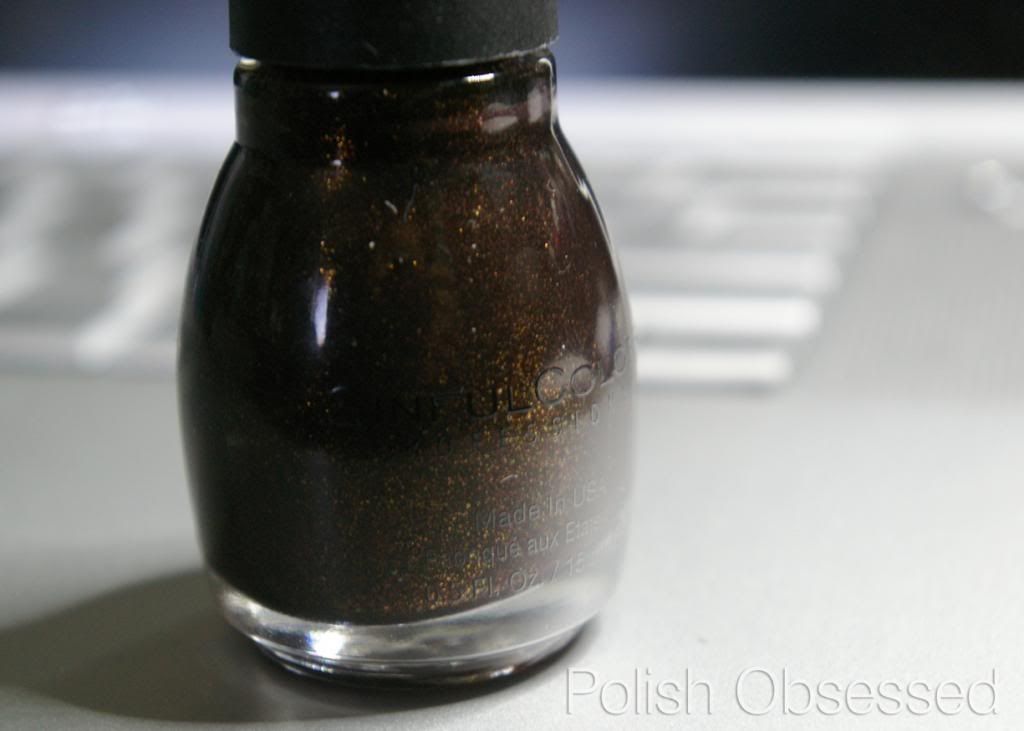 Leather Loose is a deep brown/maroon matte polish with flickers of shimmery gold opalescent flakies. It has a "leather", matte finish. Two coats are shown in the swatch below.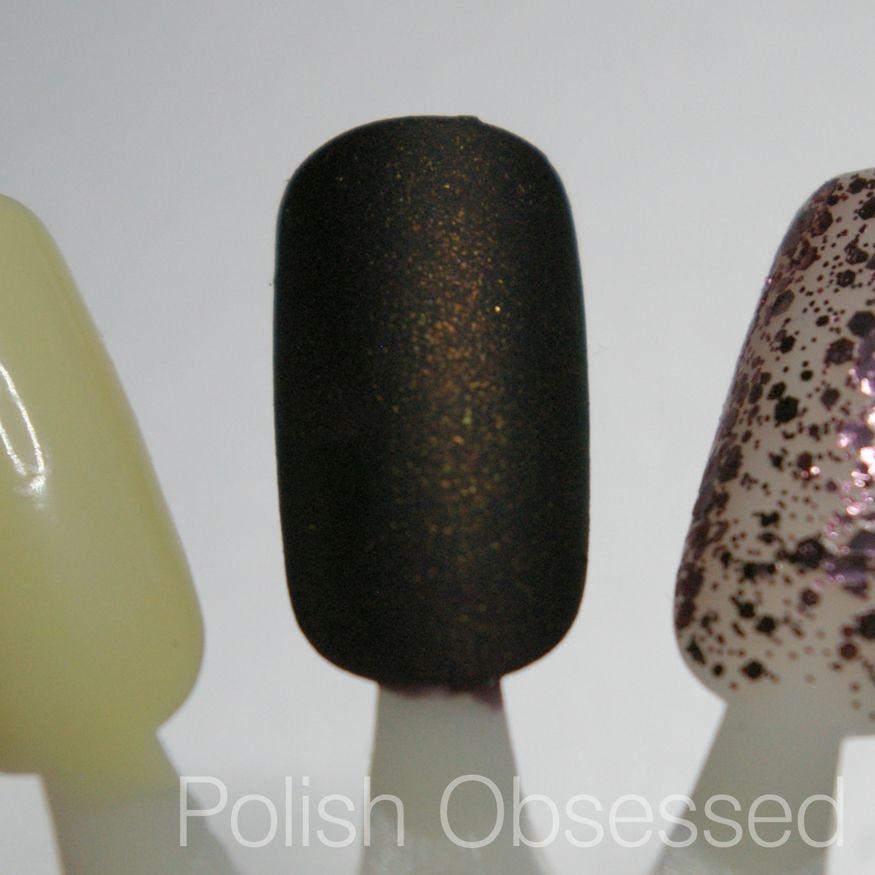 Last polish stop, Sally's, and where I hit the mother load! First a quick explanation, I always plan my visits to Sally's to make sure there is some sort of promo and that I have coupons. I purchased 9 polishes total, with promos and discounts it worked out to only $1.75 per polish! Definitely has to be one of my best hauls!
First promo, buy Seche Vite, get a China Glaze free! They happened to have their spring texture display out already so I took advantage and picked up two, Seahorsin' Around and Wish on a Starfish. In hind sight I should have picked up another Seche Vite so I would get another China Glaze free. Oh well, get his promo while you still can ladies!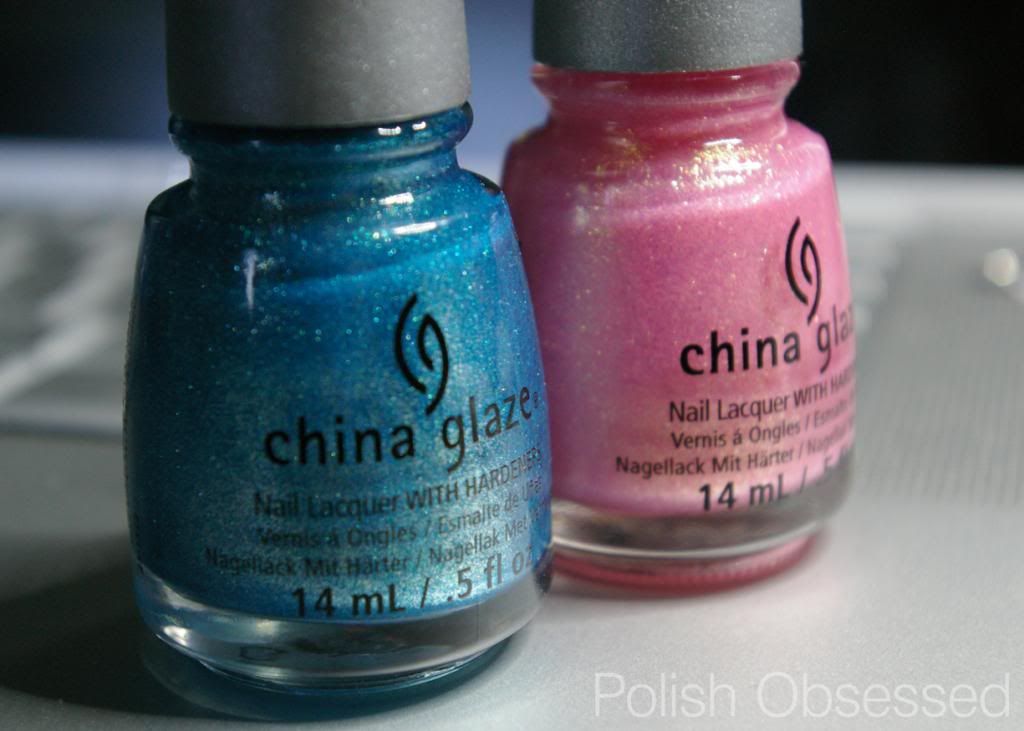 Seahorsin' Around is a deep teal with golden shimmer. This polish is very saturated with colour and appears more blue on the nail. Two coats are shown in the swatch below.
Wish on a Starfish is baby pink with golden shimmer. The formula was a lot thinner than I thought it would be, three coats were needed on my nail wheel to build it up.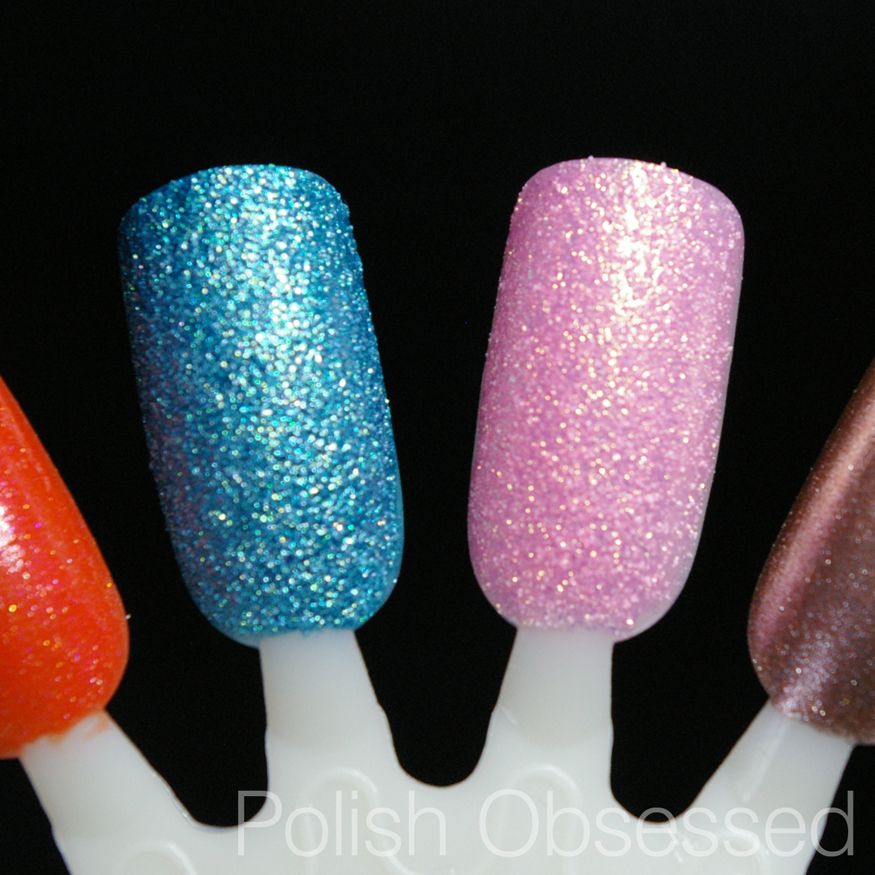 Rage is an oldie but a goodie, a rose gold foil, two coats are shown in the swatch below.
Star Trooper was a random purchase since I was getting one for free, I didn't have a lot of time to put thought in to it lol. It is a mixed glitter comprised of silver hex and white glitter with a gold shimmer and murky base. A lot going in in that bottle!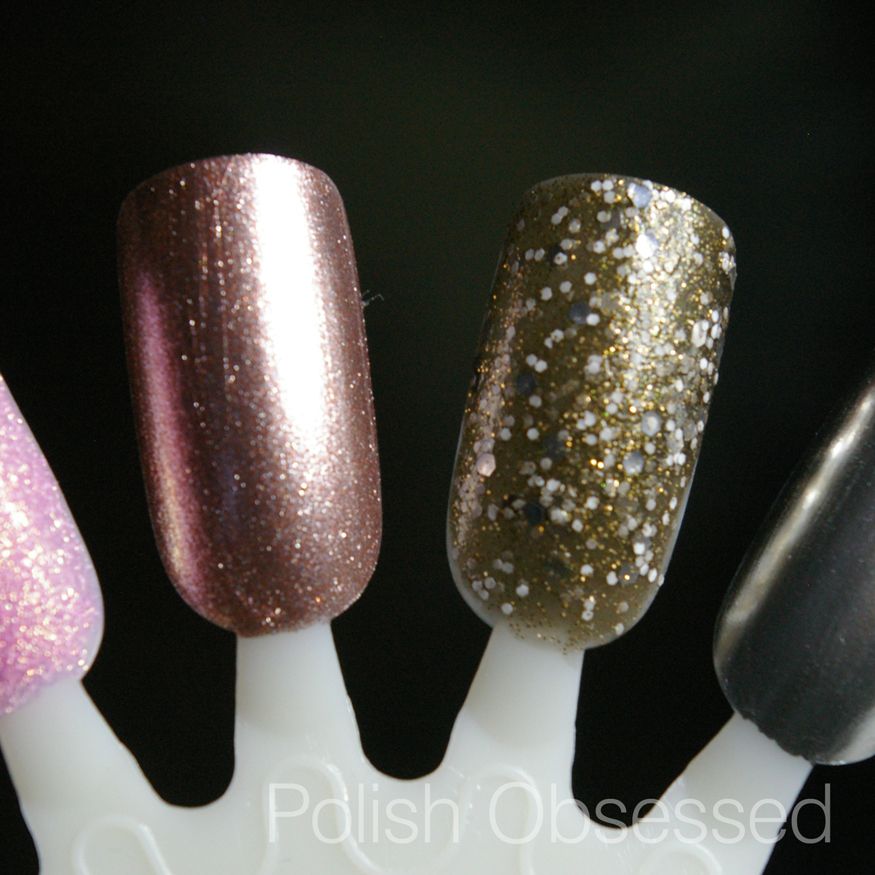 EDIT - I ended up returning Star Trooper After swatching it on my nail wheel, I just cant see myself wearing it.
Next up Finger Paints Sarong So Right, a coral jelly like polish with holographic micro glitter. Two to three coats were used for the swatch below, two would have been fine but I accidentally smudged it so I added one last coat to even everything out.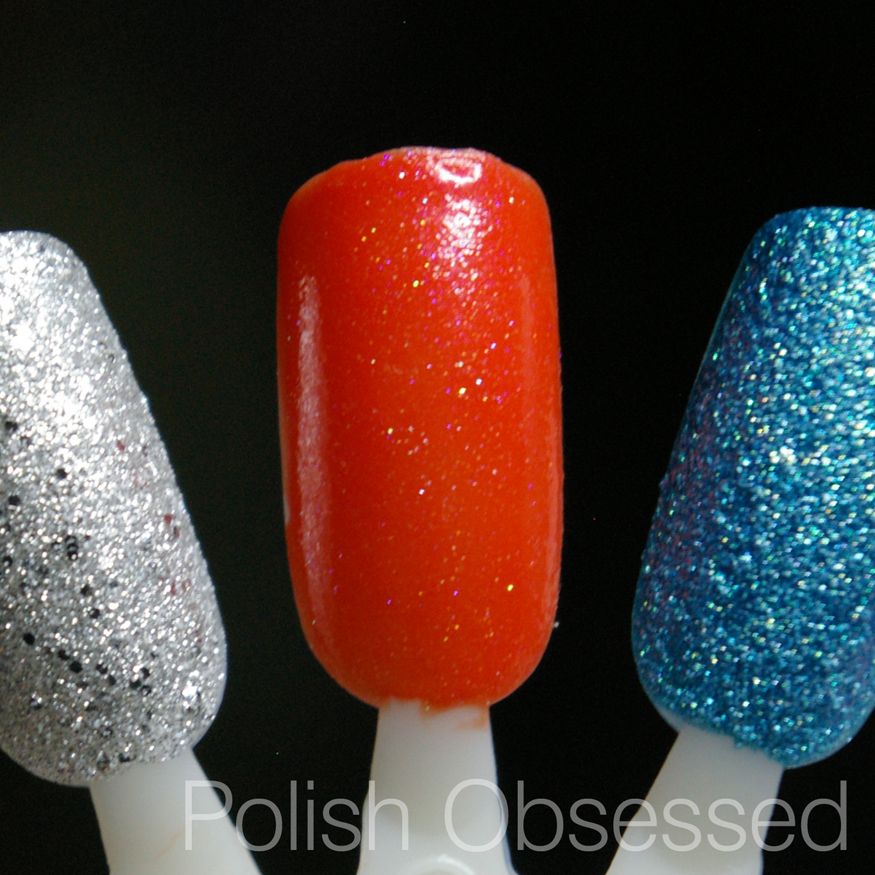 And finally OPI's "duet pack" of Push and Shove, which is apparently the coolest thing ever. This is apart of Gwen Stefani's collaboration collection.


Push and Shove is a silver polish with a high chrome finish. It came with Lay Down That Base, which is imperative to use before applying Push and Shove. Which makes me wonder what you are supposed to use when you run out of the base, lol. There is no full-size standalone bottle available for purchase that I am aware of. Very confusing OPI! The formula is very thick and only one coat is needed for opacity, although I used two on my nail wheel.


I want to do my own experimentation with application of this polish to see if I can use a base coat/top coat and still get the mirror-like effect.

EDIT: I also picked up some other polishes when I returned Orly Star Trooper:



Finger Paints Snow Crystals and Winter Chill.


Snow Crystals is a dense silver glitter made up of mico and hex glitter. I think this one is supposed to be a textured polish, but it has less texture that most. I used two coats in my swatches below.


Winter Chill appears to be a duochrome in the bottle. On the nail it is a multi glitter with a black jelly base. This does dry to a textured finish, I used three coats for my swatches below.