While wrapping up my Christmas shopping the other day I found myself inside a Dollarama picking up some last touches for gifts, gift bags and such, and I decided to check out the beauty isle. To my surprise I came across a decent set of nail art plates! It looks identical to the Express Salon kit that I have seen in Sally's and As Seen on TV stores. Within the last couple of years Dollarama has been carrying a greater selection of items that fit between $1 to $3, and this kit happened to be only $3! Not too bad! Compared to
similar kits that Sally's carries
this is a steal. On their site it sells for $10 USD, I'm not sure how much it sells for here in Canada but the tend to be slightly higher. I have provided an in-depth review of the kit below!
Contents of Kit:
-Double-sided stamper (small and large end)
-Metal scraper
-Plastic plate holder
-five metal design plates
First I will start off with the nail art accessories, the stamper, scraper and holder.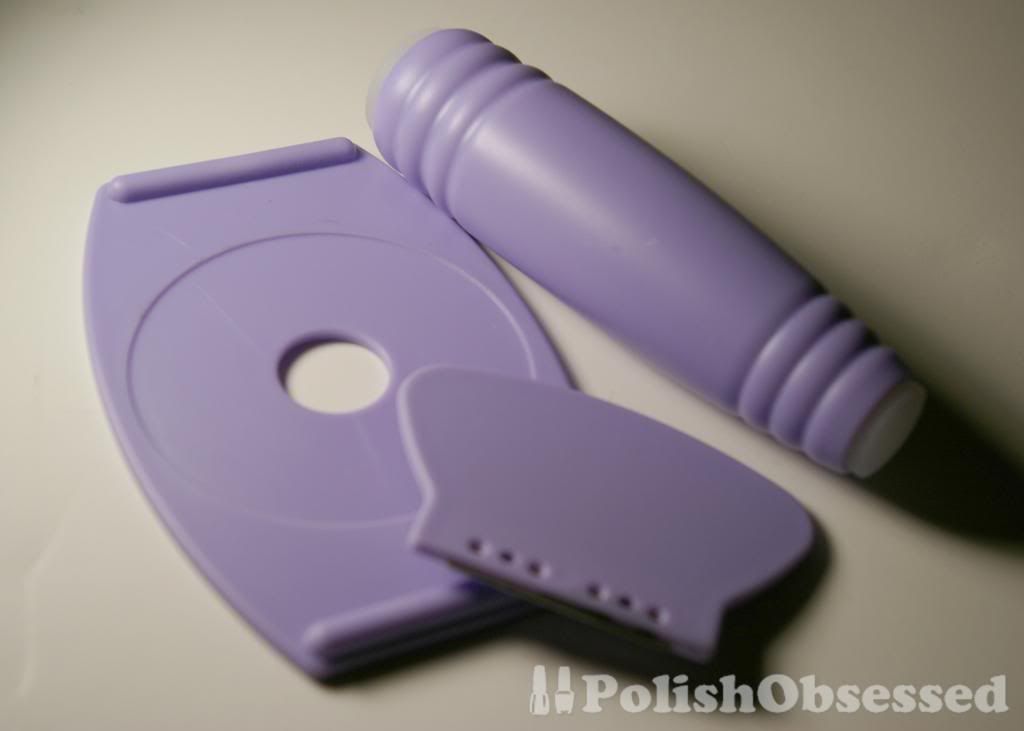 The stamper is double sided with a larger and smaller end. The larger side is good for full nail designs/patterns while the smaller end is best for smaller, single designs and should help with placement of them on the nail. I loved using this stamper, although when test stamping the larger side got pushed inside the handle and was stuck! It wasn't an issue to fix, it was probably due to the fact that I was poking around and popping the rubber pieces out before stamping lol. My other stampers can pop out too.
Next the scraper, I didn't like it. I have never really liked metal scrapers to be honest. I received one from the BornPretty Store for review and a Konad one from NailPolishCanada.com and I didn't like either of them! I have a plastic Konad one that is my favorite. For the sample stamps at the bottom of this post I started to use the metal stamper included, but quickly switched to my trusty plastic one. If this is your first ever nail art stamping kit I would suggest ditching the metal stamper and using an old credit card or giftcard as your scraper.
Last but not least the plate holder. I have never owned one of these, but I do find it useful, especially with clean up. It fits all my other plates too so I can use it whenever!
Here are the design plates that were included in my kit: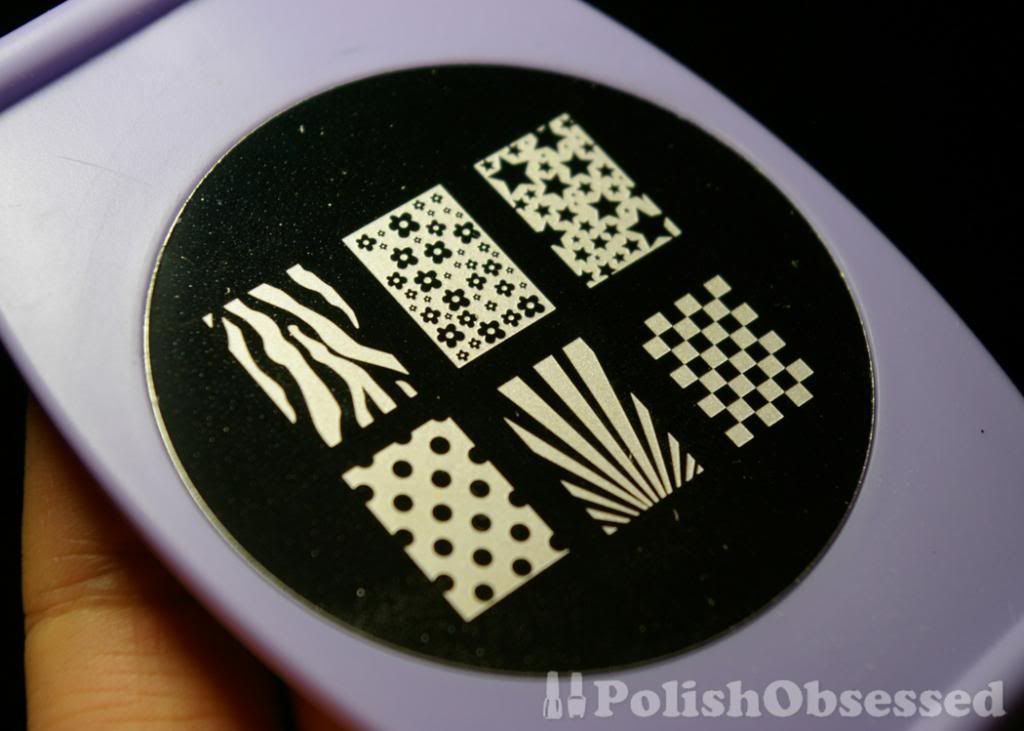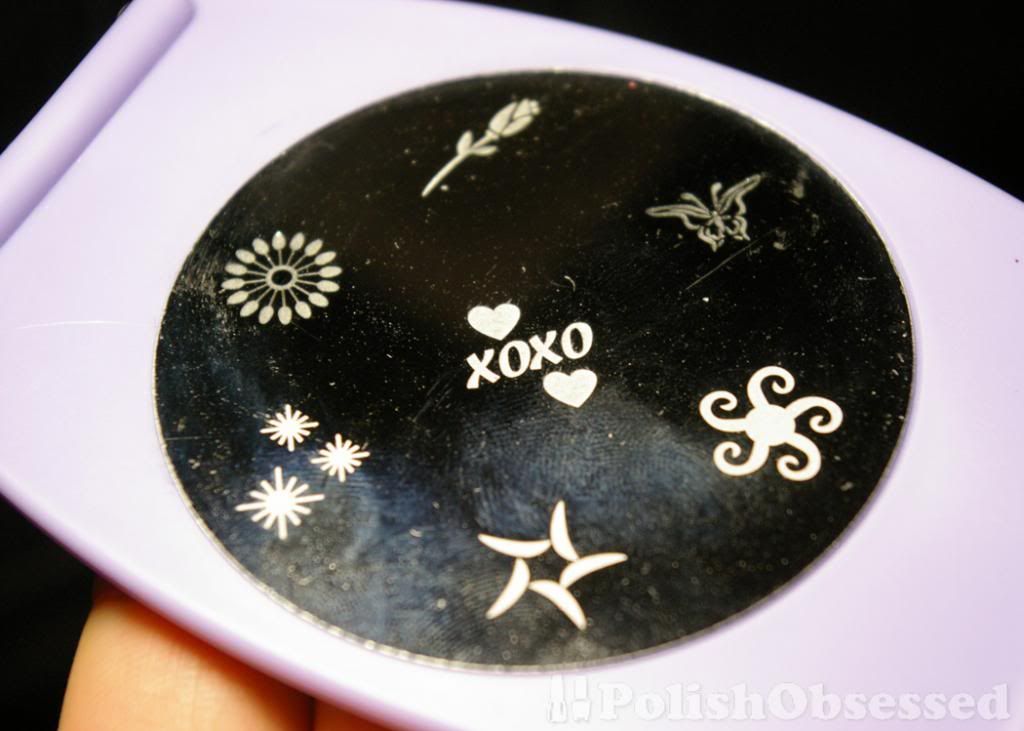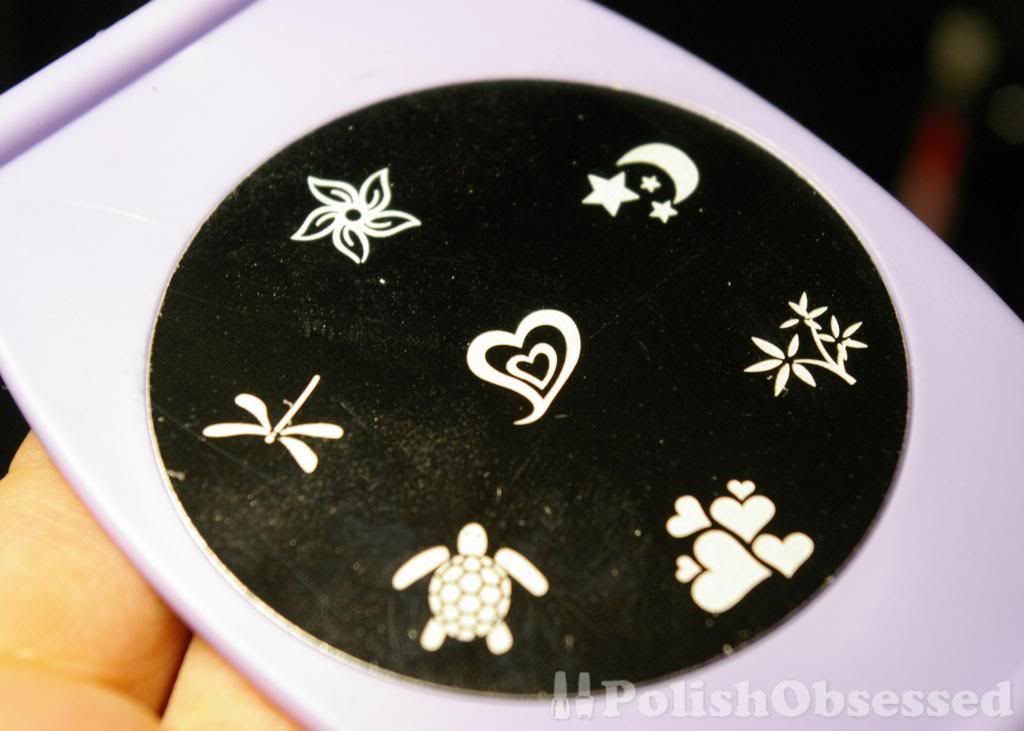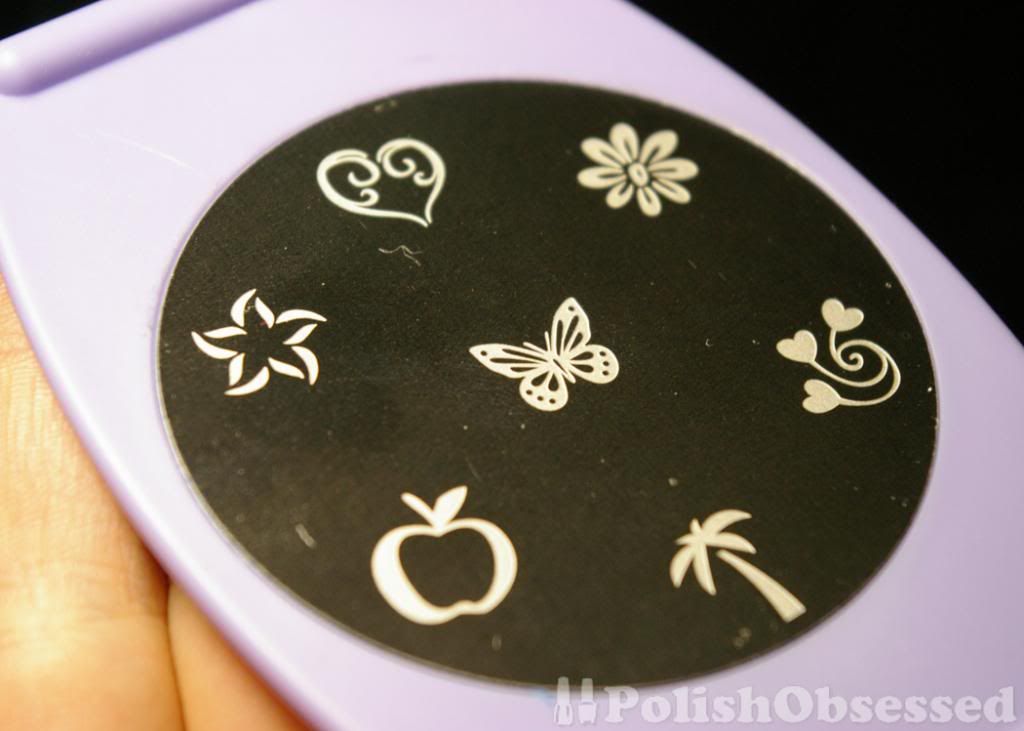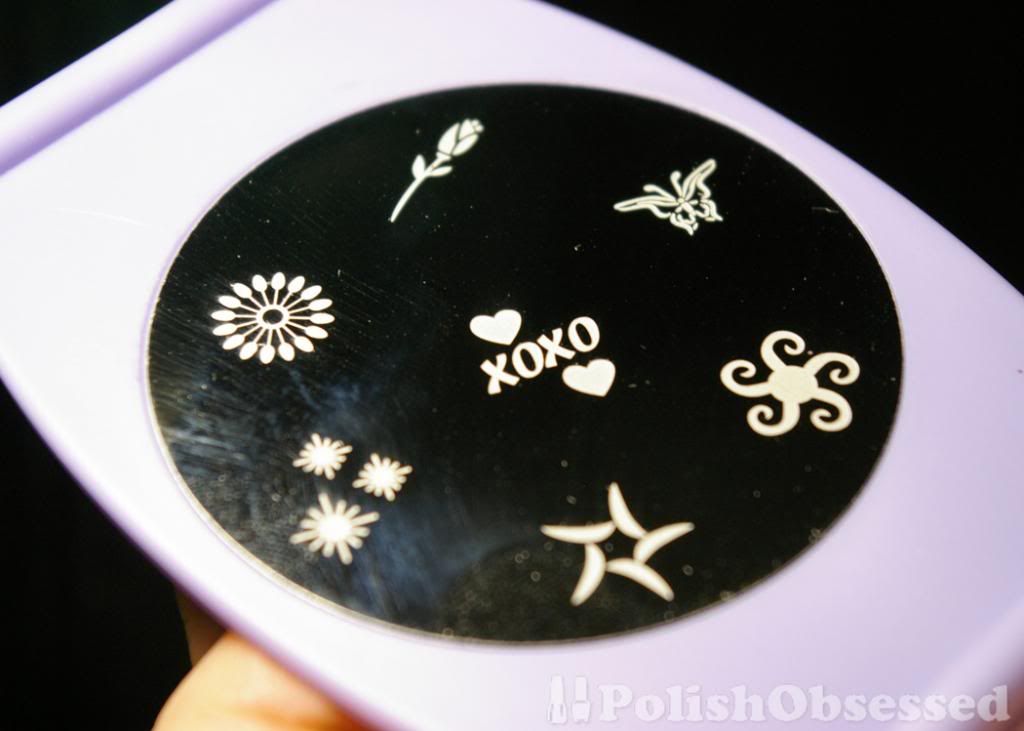 Did you notice that photo two and five are the same? It's no mistake, I got two of the name plates! The funny thing is I only noticed it after I took the pics lol. I am hoping this was a mistake to only my specific kit because they do show a fifth plate on the packaging. Maybe this was why they were at Dollarama?
The plates originally had a blue plastic film on the front that I removed prior to photographing. The plastic is also on the pack of the plates which I have decided to keep on. On the packaging the plates have reference numbers but for some reason the physical plates do not have one engraved like almost every other nail art plate out there nowadays. Another reason why it may be at Dollarama?
The packaging also claims that this kit can be used with all nail polish, which we of course know is not true. Konad and any thick, pigmented polish works best. Below I have used Konad polish (green) and regular polish that I typically use in stamping (black) to see how the images stamp.
The engraving seems to be be a tad deeper than bundlemonster and Konad, but overall still woks well.
Overall I really do like the kit! The only exceptions are to the metal scraper and double plate. Even if all of the kits have a double plate I think it is still worth the money, I'm pretty sure double stampers sell for the total mount if not more than this kit, so it is worth it for that alone! Plus you can always give someone your extra plate or use it in a swap. The designs are nice and work well with my stamping polishes and overall I really so like the images included in this set. I would recommend this kit for beginners to nail art stamping, for the price it can't be beat!