Today I have a China Glaze haul featuring their first offering for summer, the long awaited (for me anyways) Hologlam collection, a reboot of 2000's most wanted OMG collection.
I got so disappointed when I started to hear that this collection was not living up to peoples high expectations. I can tell you I am most certainly happy with this collection. The China Glaze holo effect has always been my favorite, so smooth with a fine linear prism holo. In my own opinion when comparison to the OMG polishes I own, they are pretty close.
I had no application issues with any of the polishes I purchased when applied on my nail wheel. The formula is thick but spreads out evenly and smoothly, notably without any balding or pulling. The first few strokes had me worried, kind of streaky with frost-like brush stokes, nothing really speacial at this point. I applied a second coat and waited for the polish to fully dry before taking another look. And with the light of my desk lap I was wowed, just amazed! I am so happy these didn't let me down! Some have slightly more holo effect than others but they are beautiful all the same.
Some improvements I noticed when compared to the past holo offering (OMG's) is:
- smoother formula
- easier application
- glossy finish
I feel like the topcoat is built in or something because they are crazy glossy, especially when compared to the past collection.
So what do they look like? See for yourself! First Up Sci-Fly By and Cosmic Dust
Galactic Grey and Not In This Galaxy.
Sun swatches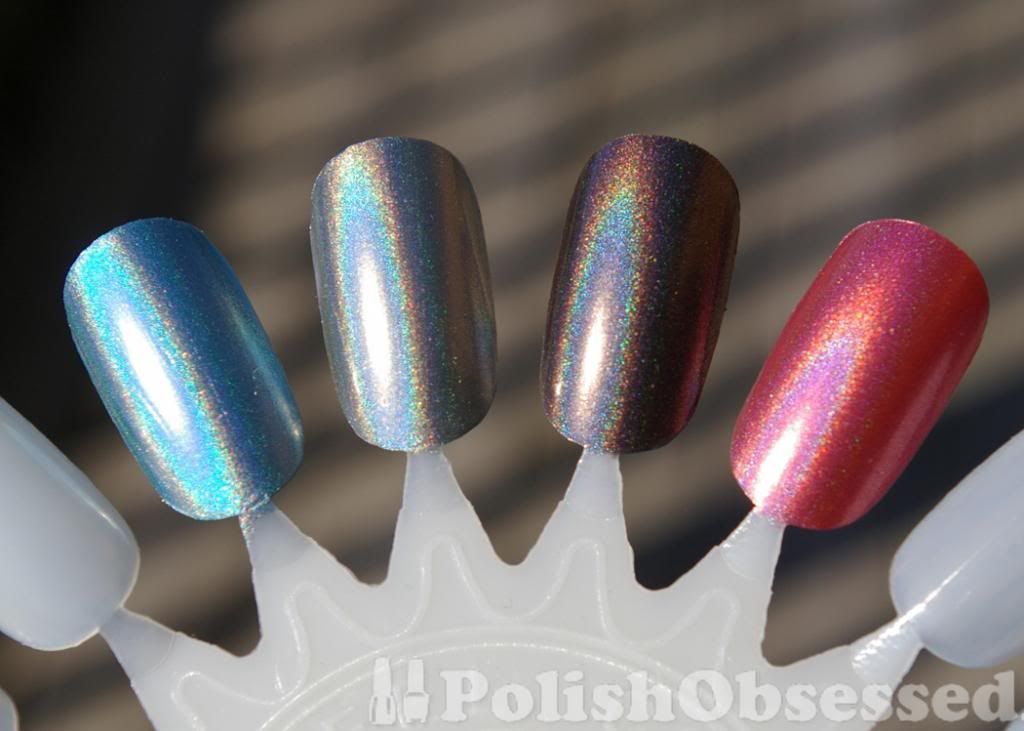 The other four polishes mentioned in my haul post have been delivered, I just haven't been able to pick them up from the family member I sent them to in the U.S, so more on When Worlds Collide OMG A UFO, Take a Trek and Strap On Your Moonboots in an upcoming post. I was too excited about these that I wanted to get the post up ASAP and I have actually been hanging on to it for a week! Those four were my faves of the collection so I cannot wait to get my hands on them.
I ended up going back to Sally's to return Sci-Fly By, not because I didn't love it, but the polish seemed to have evaporated in transit or something, you can see in the bottle photo above it looks a little low. When I picked it up in store I thought it was separation, but after sitting on my desk for a few days it was clear to see a good chunk was missing. I had no issues exchanging the polish for a new one, and lucky me they had just put out the full collection so I picked out three more to take part in the buy two get one free promo, this included Infra-Red, Get Outta My Space and Don't Be a Luna-tic. so technically I own all but one of this collection now lol, I didn't want the pink anyways. With the BOGO and $10 off coupon I got a pretty sweet deal on these again. Swatches of these below
left to right Infra-Red, Get Out of My Space, and Don't Be a Luna-tic.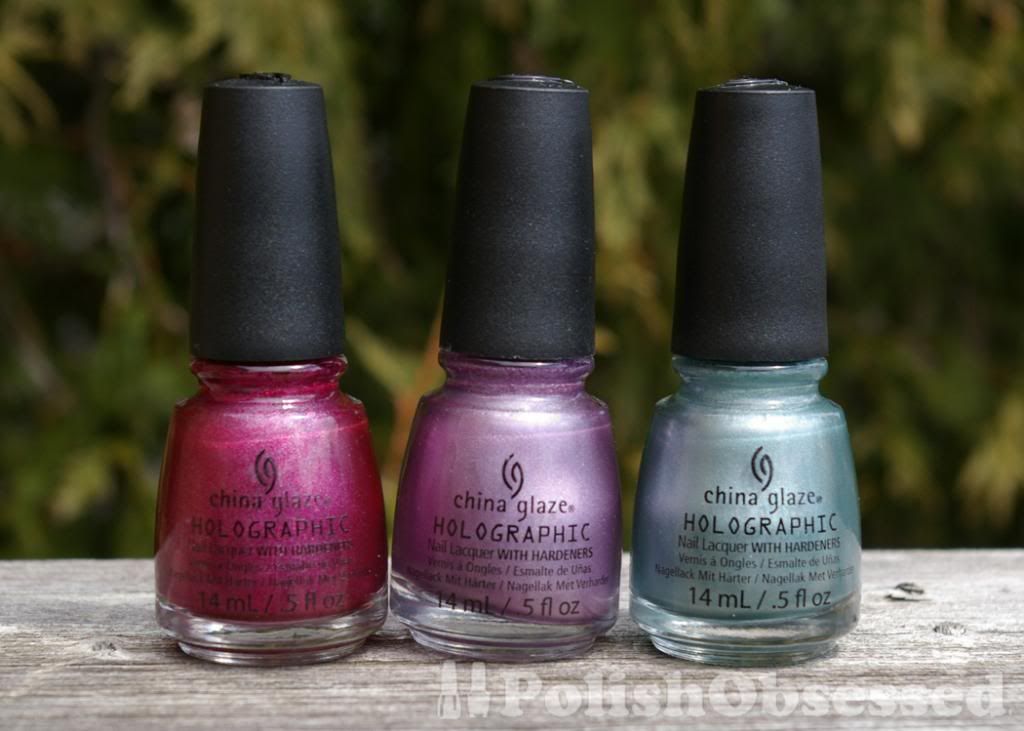 As you can see in the above photo my second shoot for the additional purchases to this collection was not so sunny. I tried my best to capture the holo in the swatches below, run outside with my camera when there was a small break in the clouds!