This just may be my biggest haul to date! Cherry Culture had a huge promo last month with a coupon code for 40% off your full purchase! Not only do they already carry China Glaze for a great price, but an additional 40% off, that is just nuts! To make things even better (...or worse depending on how you look at it) they offer free shipping in the U.S with a purchase of $40 or more. Calculating the total I spent divided by the number of polishes I purchased I ended up spending under $2.50 a polish! I purchased only China Glaze polishes with the exception of one LA Colors duo which I have left to the end of this post, i needed one more item in my cart to equal $40 lol.
I was very impressed with Cherry Culture's customer service and shipment time. The bottles were also safely packed, very well I may add, and delivered without any polish fatalities. I think there was one bottle that had a tiny leak, but it was just around the inside of the bottle, no polish was lost, not a big deal to me. One out of 17 bottle is not bad ;)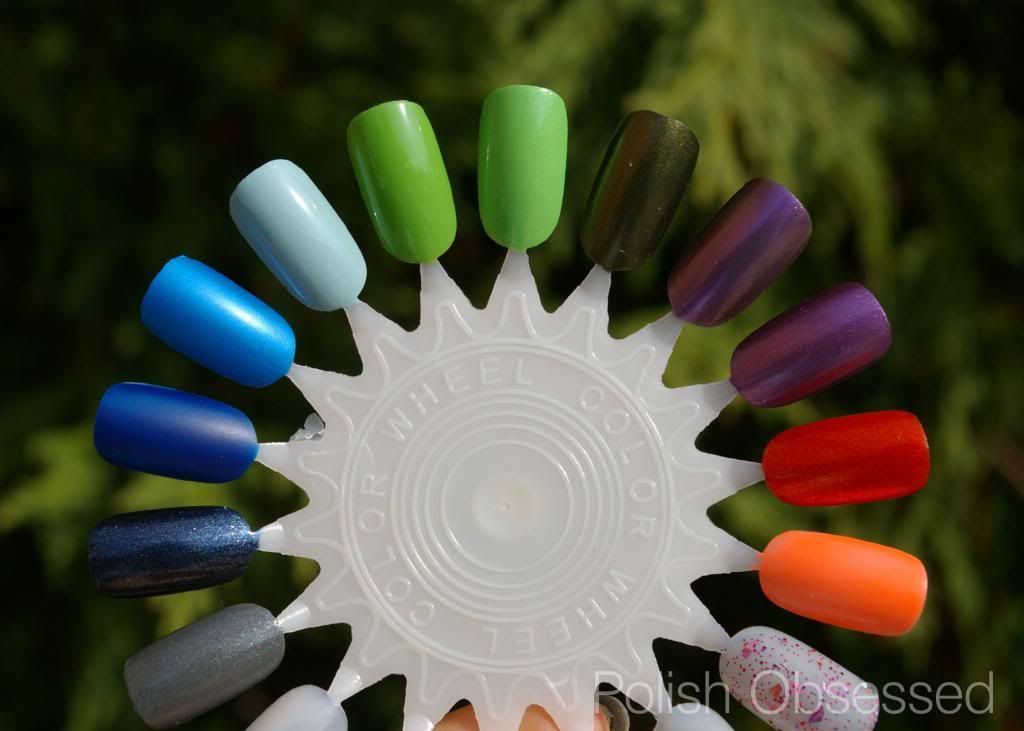 I will start off with what I was anticipating the most, the Monster Ball collection! I picked up the full collection for this year, excluding Goulish Glow since I own enough glow-in-the dark polishes already. Pictured below is Fang-Tastic and Boo-gie Down, these are the two glitter toppers in the collection.
Fang-Tastic
is a multi glitter in magenta, green and blue. Not your typical Halloween shade, however I think this will work well for jelly sandwiches. Two coats are shown on the nail wheel below.
Boo-gie Down
is an awesome Halloween topper with shades of gold, copper orange, black and white glitter in various shapes and sizes. I'd love to try this over a nude creme! Two coats are shown on the nail wheel below.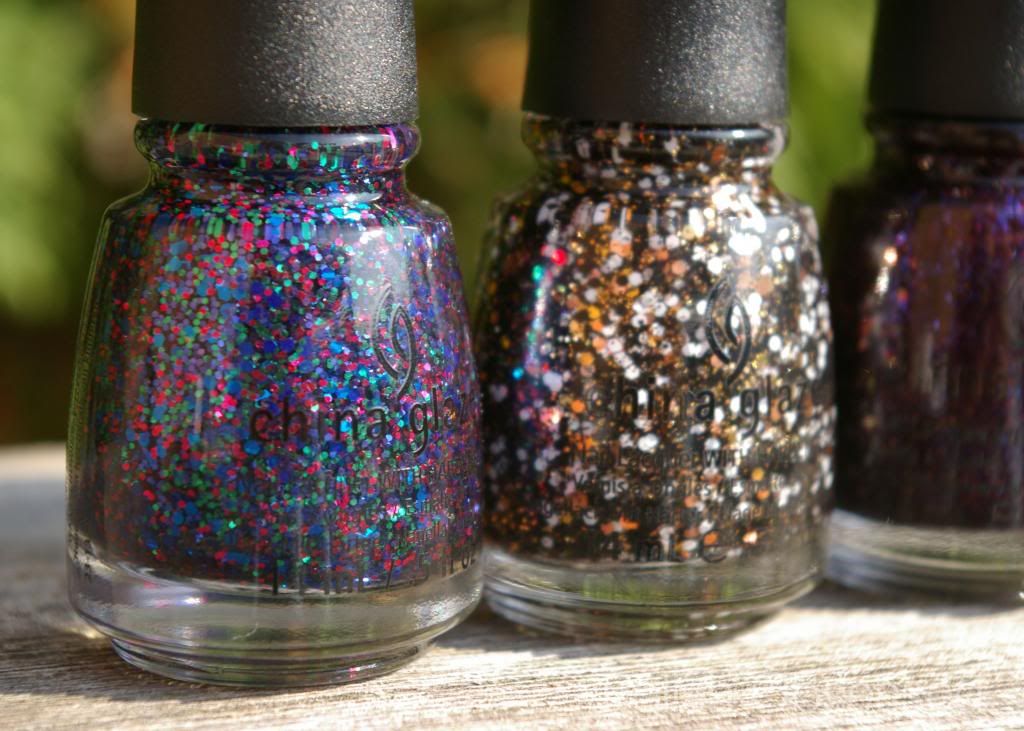 These next three shades from this collection can be built to opacity, the first two are Howl You Doin? and Bat My Eyes.
Howl You Doin'? Is such a complex shade. I have noticed a lot of other bloggers refer to this one as a Merry Midnight(OPI)/Fowl Play (Orly) dupe, however I don't think this is a dupe for either. It may be close in theory, but it is unique in my collection. I will do a comparison of all three polishes soon. This shade is made up of a deep grape jelly and scattered purpley-blue glitter and irregularly shaped shards of glitter. To me these appear golden, however the base of the polish alters them to red. Two coats are pictured in the swatch below.
Bat My Eyes was the shade I was most looking forward to. It is made up of a murky grey/olive base with varying sizes of green based gold hex glitter and orange holo bar glitter. Two coats are pictured in the swatch below.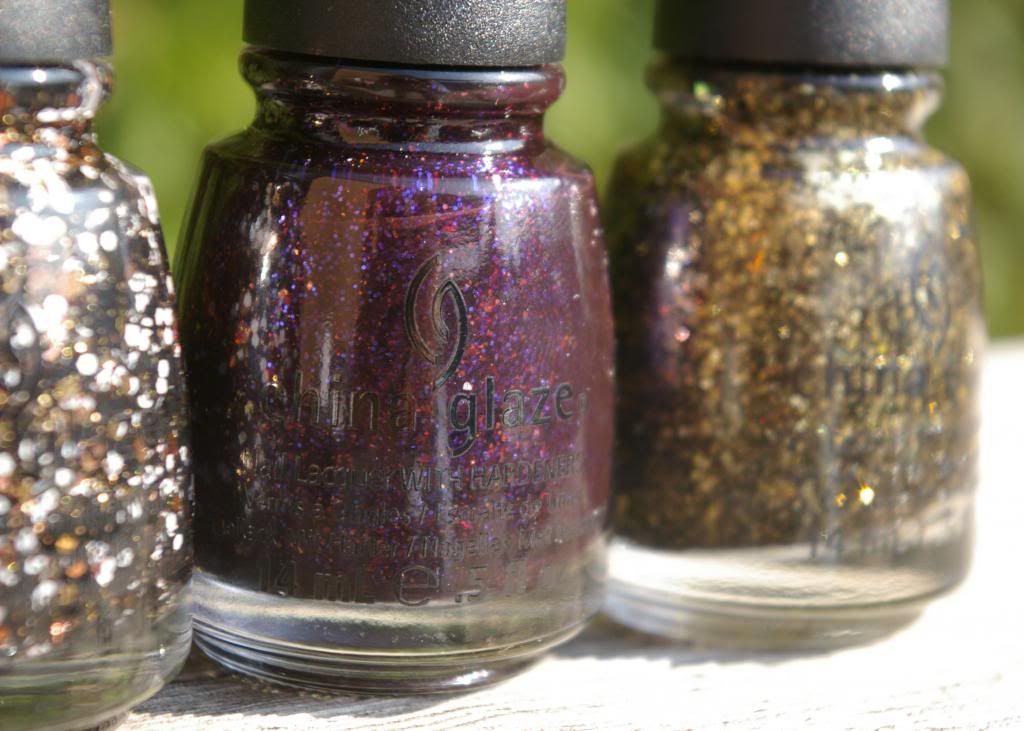 Last but not least from the Monsters Ball collection, Bump in the Night.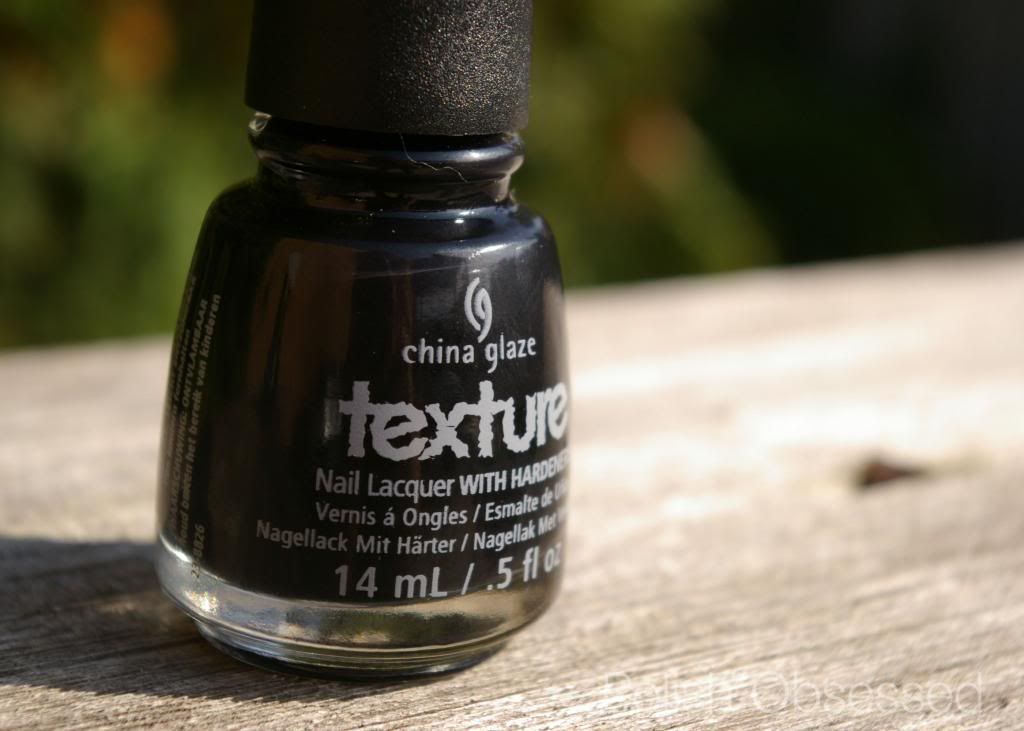 When I first heard about this polish I was so not interested! I wasn't a huge fan of the textured polish trend started late last year, however, as I type this post I am sporting an OPI liquid sand lol. These trends usually seem to grow on me after a while. I've already written about this polish in a previous post, click
here
for more info. One coat gives full coverage, however I added a second for more texture in my swatch below. I LOVE this! The name rocks too :)
Swatches: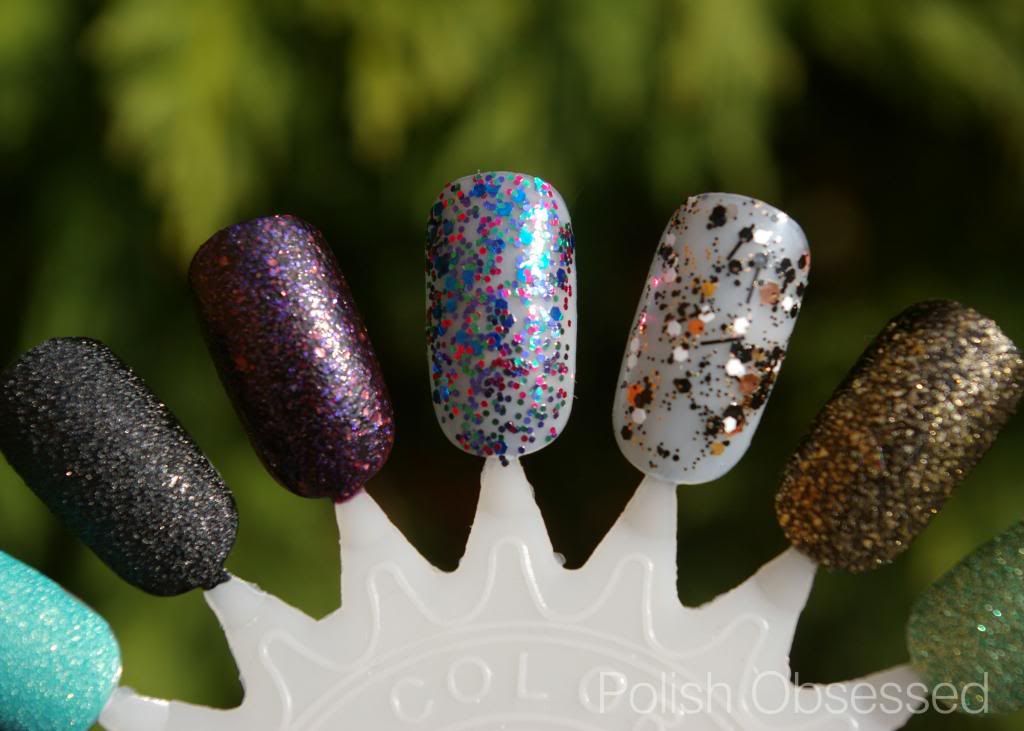 Next up is the rest of my order seen in my rainbow nail wheel at the top of this post. Lets start with my favourite colour ever, blue! Left to right, Midnight Mission, Ride the Waves and Splish Splash.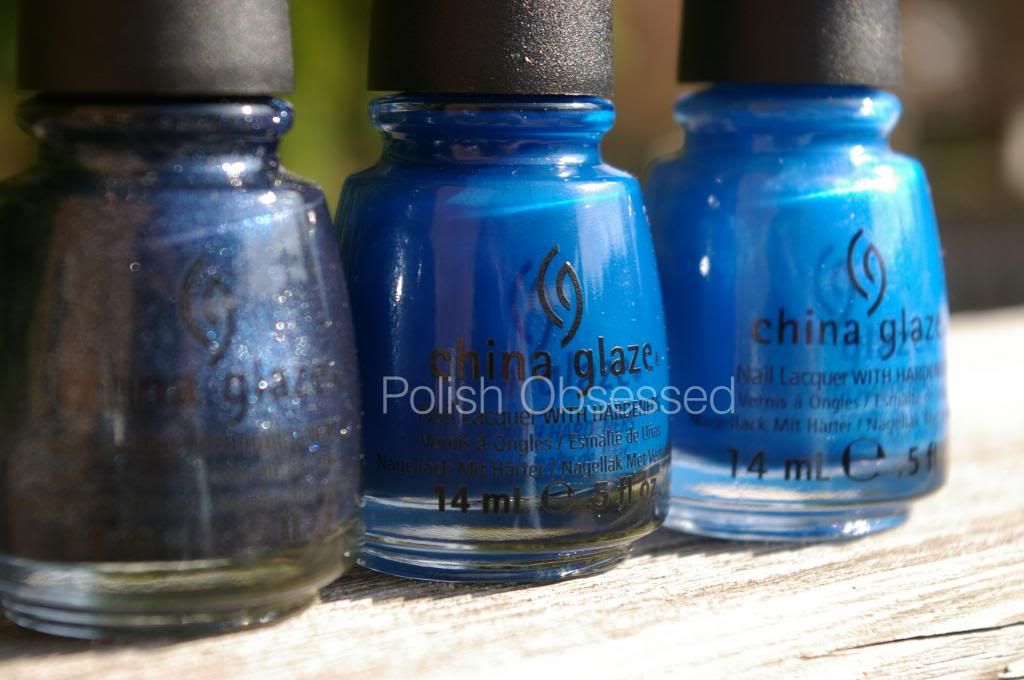 Ride the Waves and Splish Splash are apart of the Summer Neons collection from 2012. although they may look similar in the bottle they are quite different in formula and appearance on the nail. Ride the Waves is a deep blue jelly while Splish Splash has a medium blue base with a faint microshimmer. Since they are considered neons they dry to a matte finish, below is two coats with no top coat.
Midnight Mission is a deep denim blue with silver shimmer, this is apart of the Vintage Vixen collection. Below (on the right) is one coat. Great formula on this one!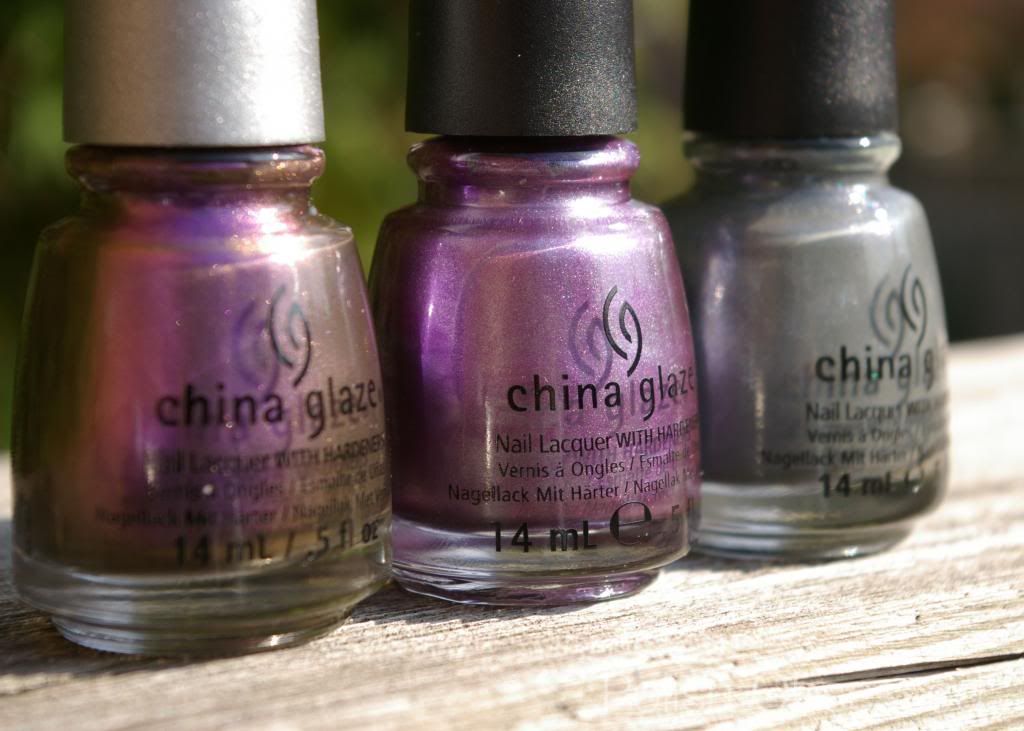 Imortal is a medium grey with glass flecks and blue microshimmer. This is apart of the Wicked collection, Halloween 2012. Two coats were used in my swatch (above, with the blues).
No Plain Jane is a purple based duochrome which shifts to a gold/beige. The effect is not super strong, but it does add some nice depth. The formula was a bit sheer in my swatch below, I needed three coats. On a side note, the Bohemian collection, was one that included silver caps which are usually coated in silver paint. This particular cap is a silver coloured plastic, I actually prefer this!

Harmony is apart of the Romatique collection, it is he perfect purple foil. It appears more pink in the photos, but it is actually a medium purple. I originally purchased this for stamping, but I think it would be the perfect base for No Plain Jane. What a happy coincidence! One coat is shown in the swatch below. An easy one coater, perfect formula.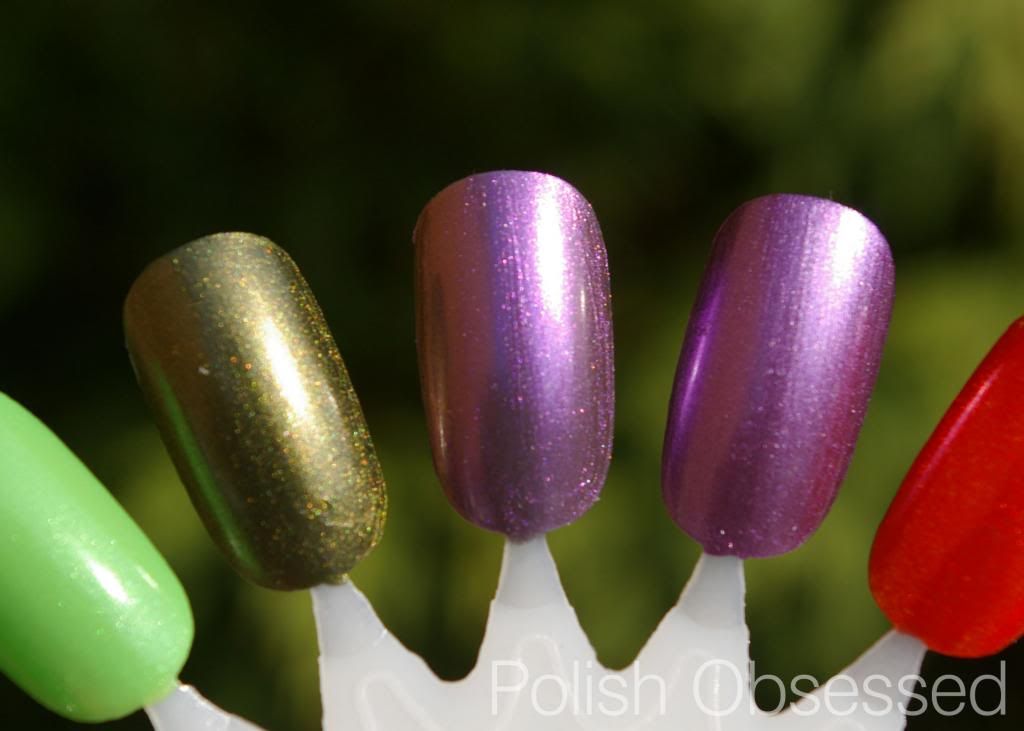 Argo
apart of the Hunger Games collection is swatched in the photo above on the far left. I must have lost the bottle photo, too much polish! Argo is a green olive polish with a goldish shimmer. I love these kinds of shades! This one reminds me of
OPI, At Your Quebec and Call
, however it is not a dupe. Two coats were used for the swatch above.
More Shades ahead! From left to right Kinetic Candy, Gaga Green and Entourage. Kinetic Candy and Gaga Green are from the Electropop collection.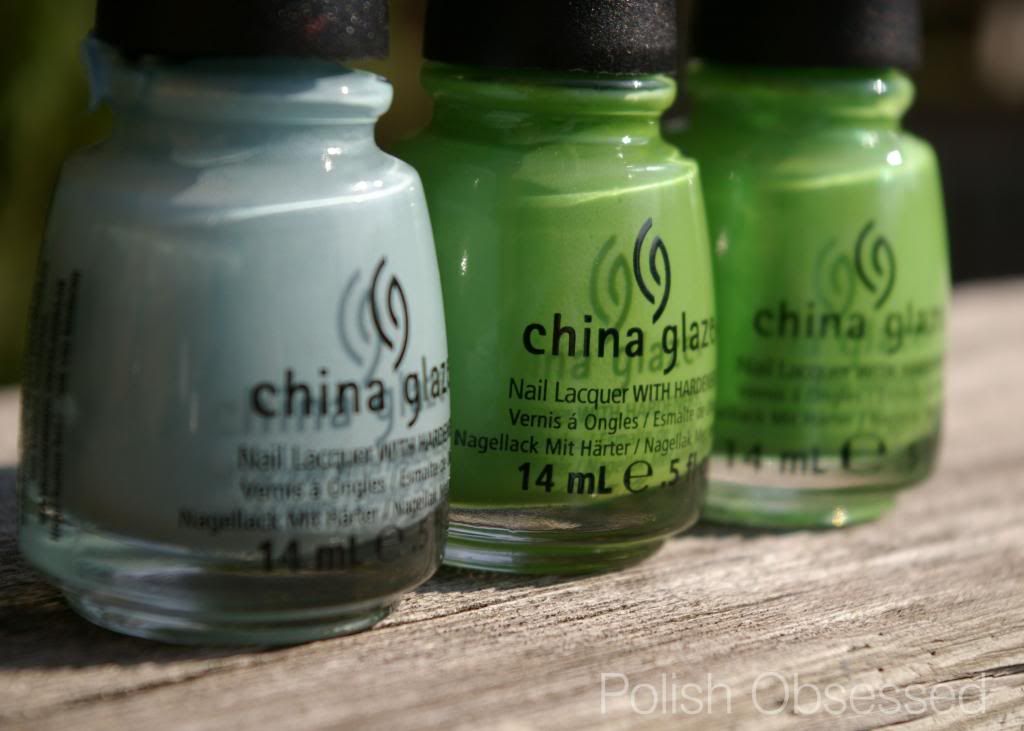 Kinetic Candy is a soft blue pastel creme, a little bit brighter than the photo suggests. My swatch shows one coat.
Gaga Green is a light green creme, sligtly deeper than the photo suggests. My swatch shows one coat.
Entourage is from the Kicks collection, it is slightly brighter than Gaga Green and has a yellow gold shimmer. My swatch shows two coats.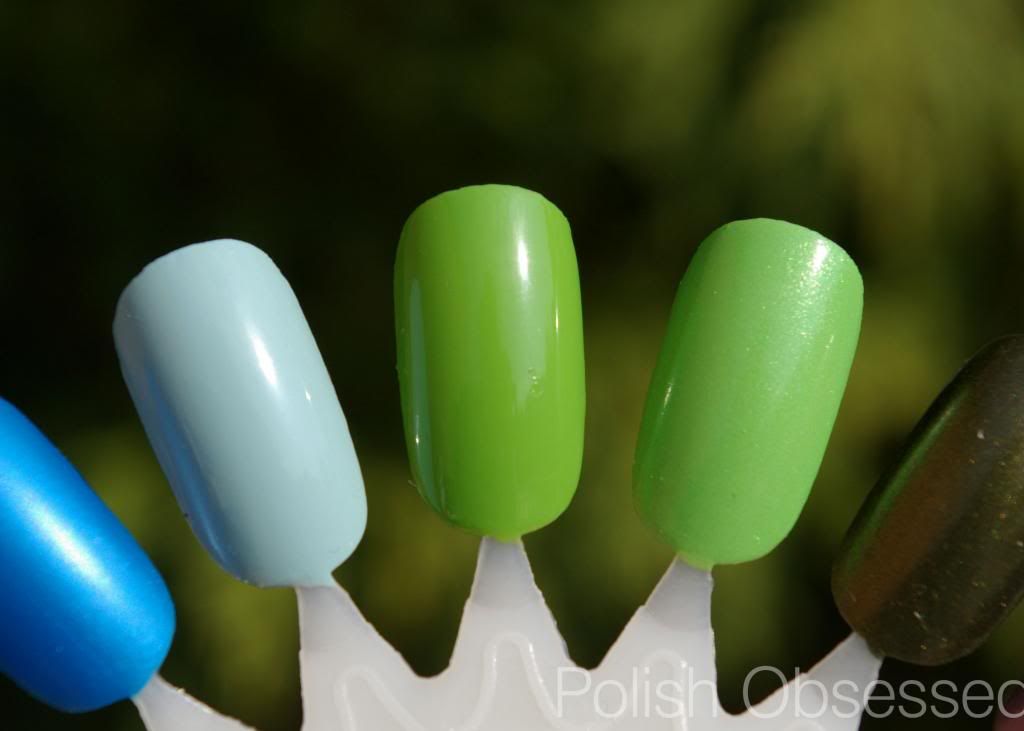 Last up are L.A. Colors Flash Pop duo in Mad Duo and China Glaze Riveting.
Mad Duo is a combo of two mini polishes, one is a pink holo based glitter comprised of various sized glitters and the other is a bright orange based coral. My swatches below are show one coat of each polish. I have also included a photo of how the polish is packaged, similar to the Revlon duos. I like that you can remove them from the middle division piece for easier application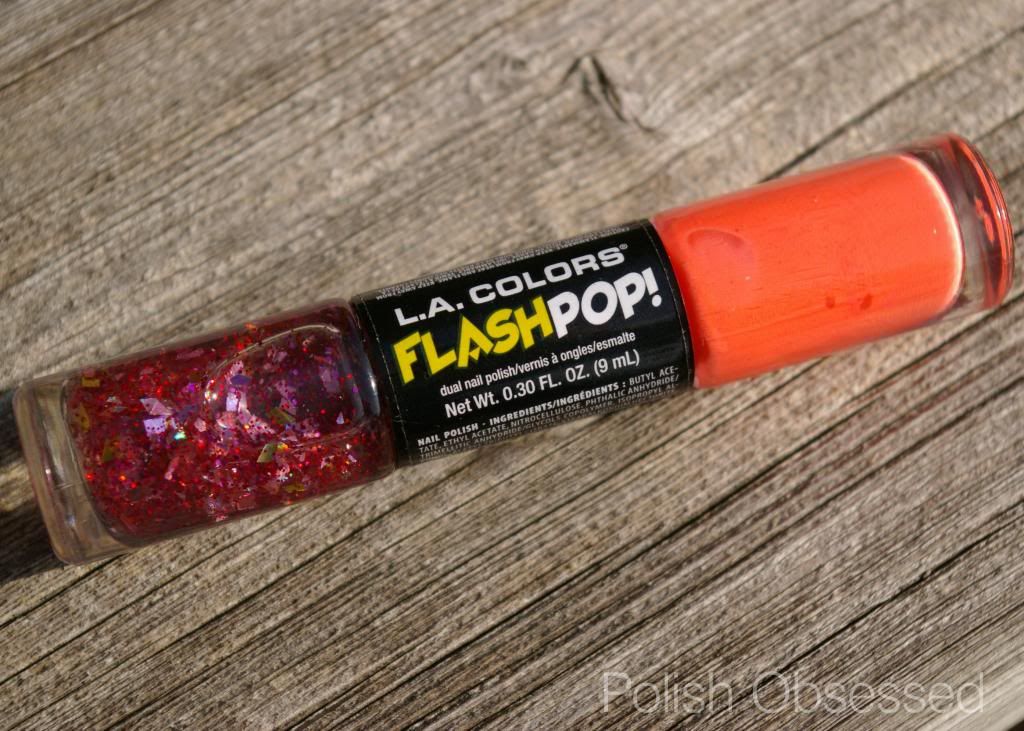 Riviting is an orange based red shimmer, not a typical colour for me, but I just love the orange glow in this polish! Two coats are shown in my swatch below.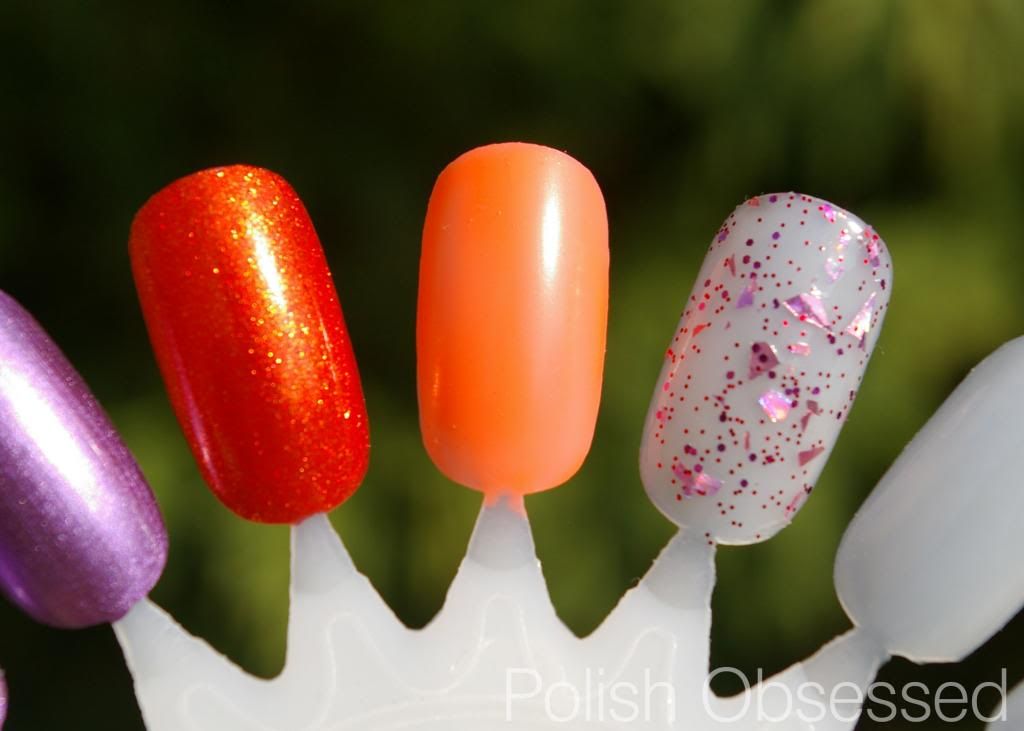 So there you have it, possible my largest haul to date, but for the price I paid I simply could not leave them! It took me forever to post this due to all the photos and information I wanted to include, I'm glad it's finally up and over with :)

Any comparisons you'd like to see? Let me know in the comments section below.