Happy Friday! Continuing with catching up on posts from late December, today I have my last haul before Christmas, originally it was to be posted on December 21 2013. Hopefully if you like what you see you are still able to pick these up and for a greatly discounted price ;)
I stopped by Sallys over the weekend quite by accident and picked up some of the last of my lemmings from the holiday collections. Lucky for me they had everything I wanted! I also had my first look at the new OPI section and I must say that it wasn't anything super exciting. I didn't look through every colour, but I was at least expecting the latest collection to be out in display. I wonder if they are only carrying the core colours. I hope they start to carry the new collections as they are released.
Edit:
Since then I have seen much advertising for the new Gwen Stefani line so it looks like they will be carrying the new collections as they are released, yay! One stop polish shopping!
On another note, has anyone else encountered a pricing increase recently at their Sally's? I sweare their pricing has had to have gone up by a dollar! And I have the pro card, it was like I was paying regular beauty club pricing. If so that really sucks. I'll have to ask the next time I am in, I only realized when I left and took a closer look at the receipt.
I may have gone in hoping so score OPI's but ended up with China Glaze and Finger Paints. Some more Happy Holiglaze polish for me, Put a Bow on it and Be Merry, Be Bright.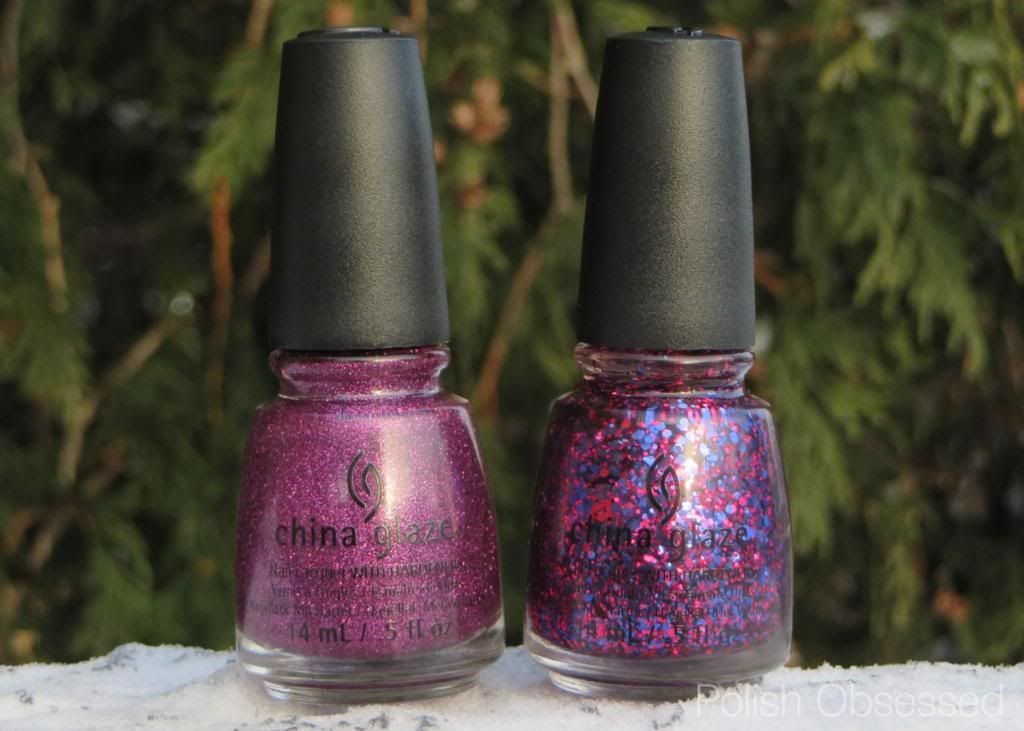 Put a Bow on it is an interesting shade, from swatches online it looked purple, in store it looked pink. I have come to the conclusion that it is a bright magenta with a scattered reflection of purple. This is a dense glitter with a clear base, it built up to opacity on my nail wheel in three coats. I wish it had a slight base to help with opacity. I may try layering this over a similar coloured polish when I decide to wear it.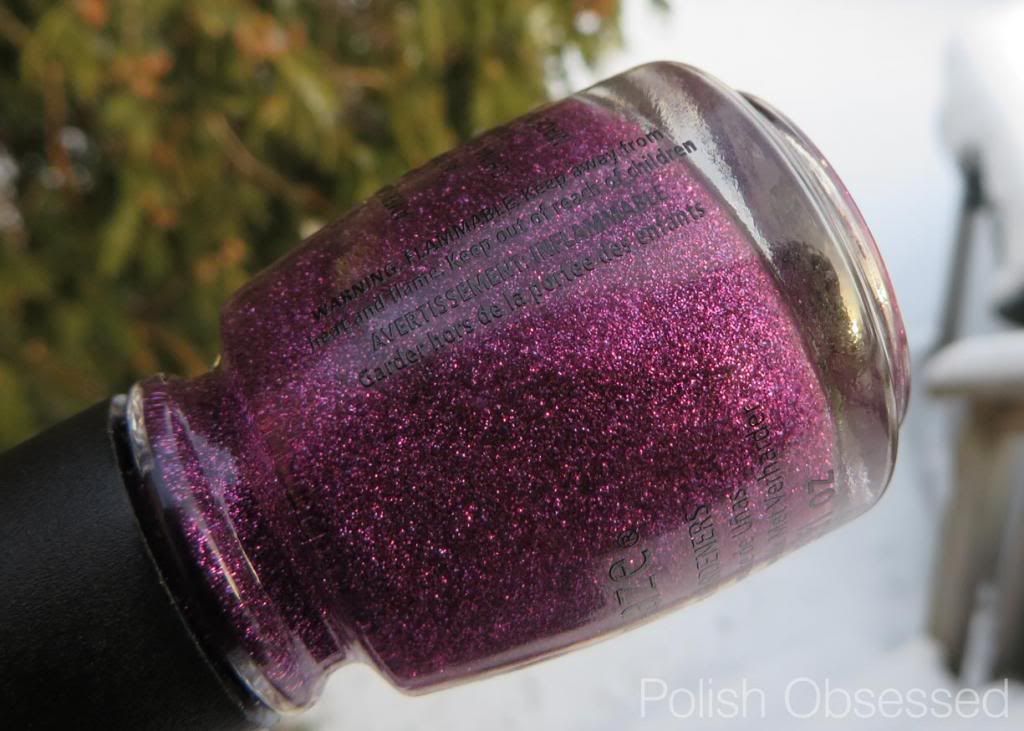 Be Merry, Be Bright is a surprisingly densely packed glitter made up of various sized pink and purple hex glitter in a clear base. It reminds me of cranberries or holly berries or something! I initially was not interested in this glitter, but it grew on me. Your Present Required was so awesome it made me want to try BMBB, plus it should be great for layering and jelly sandwiches. My nail wheel shows one coat!! No dabbing, just a regular coat. I am very impressed with the density of the glitter and ease of application! This would look great layered between a glittery red jelly, I'm thinking China Glaze Ruby Red Pumps or Essie Leading Lady.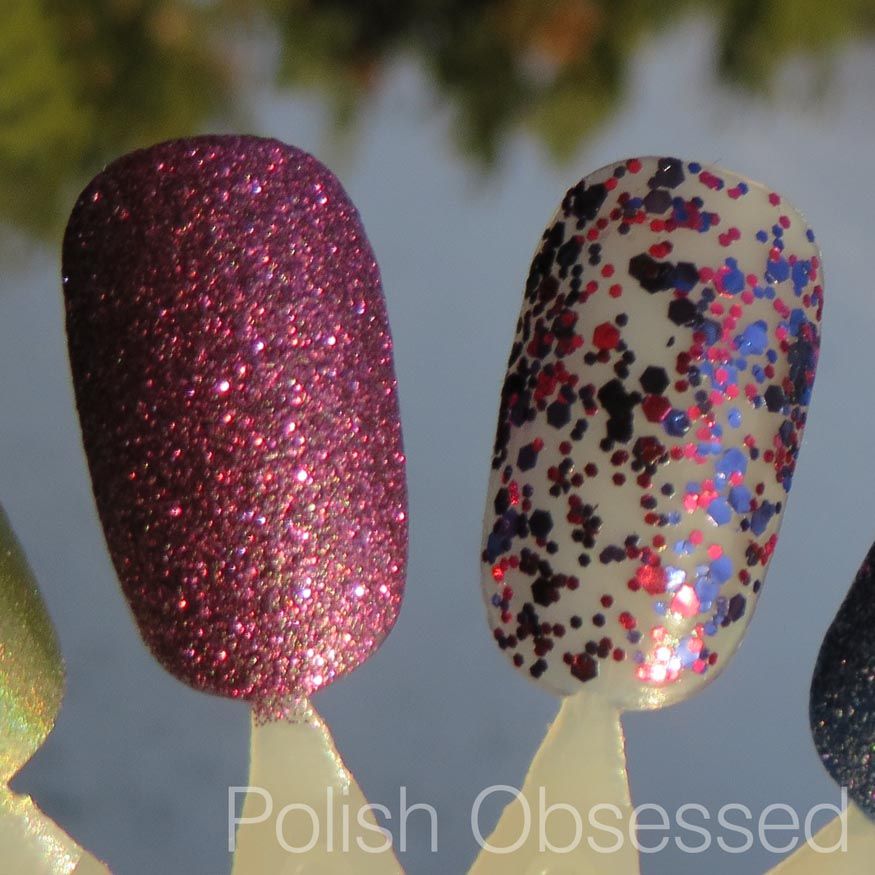 Finger Paints has been stepping up their game lately, I am really impressed! I picked up one Finger Paints for each of their holiday/winter collections and both should be considered textured, however there was no clear indicator so I am still kind of confused lol.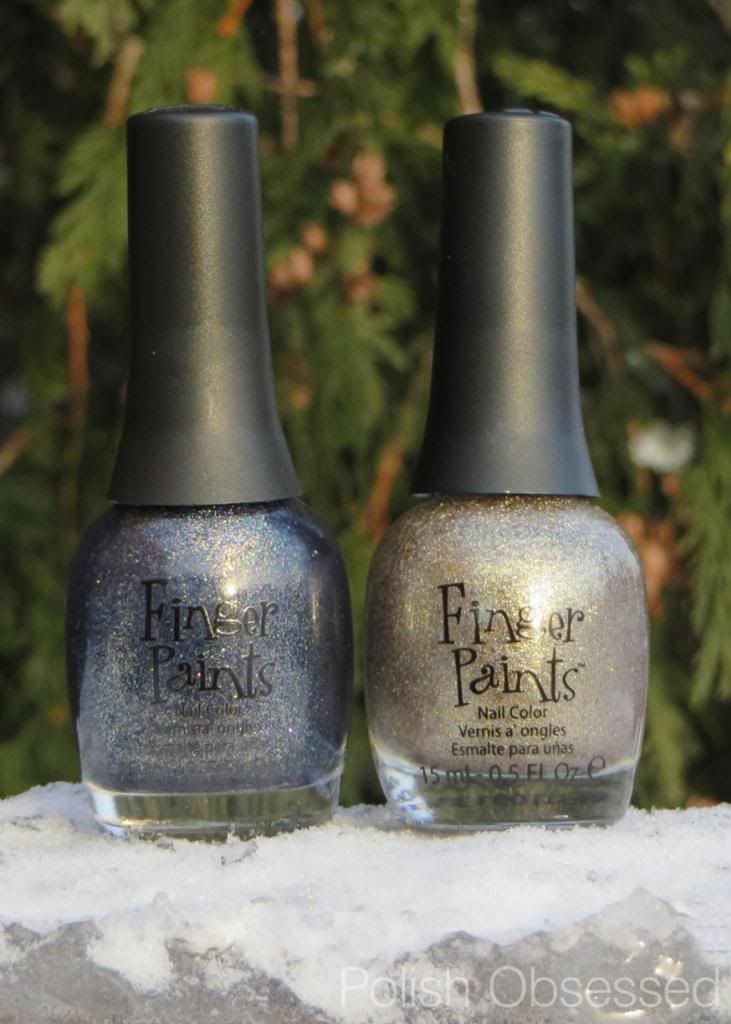 The first, Sparkle in the Sky apart of the Enchanted Winter collection is apparently a close dupe for OPI's liquid sand, Alkatraz Rocks. A cheaper version of a polish I want? Score! The colour is hard to describe, a inky, purple, sparkly indigo textured polish. Again, assuming it is textured, there was no indicator if it was apart of any sort of special collection. Two coats built up nicely on my nail wheel swatches below.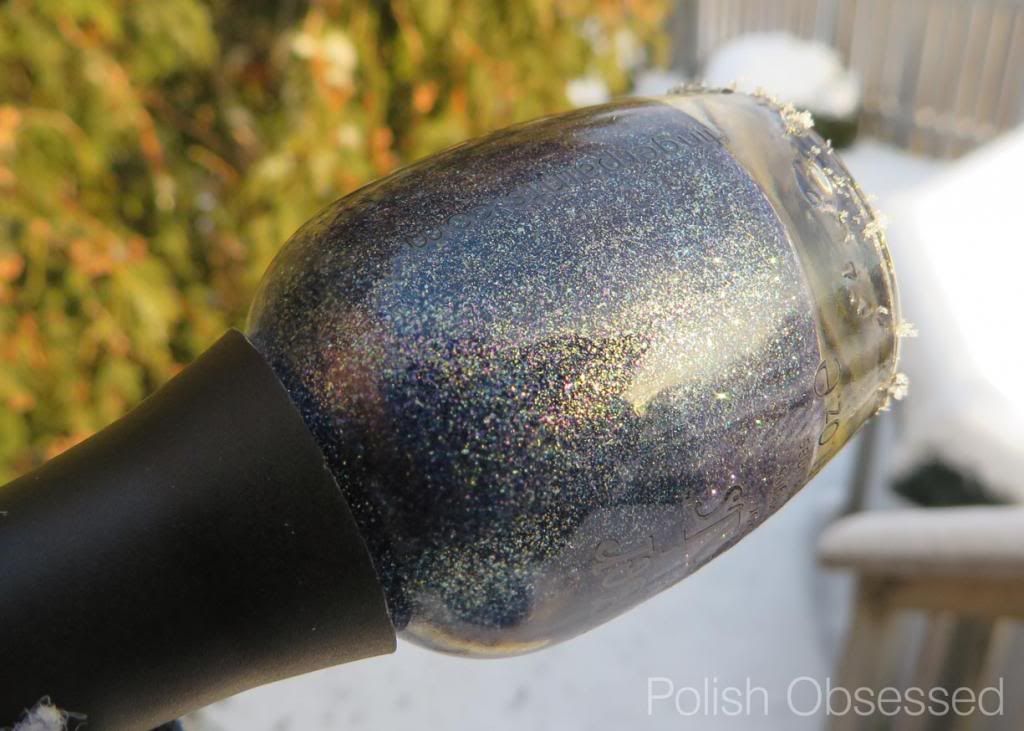 The next polish I picked up was due to Karen from
Frazzle and Aniploish
showing of the lovely shade. Golden Kisses apart of the Holiday Love Afair collection is a gold, shimmery polish that dried to a textured finish but I can't wait to try a glossy top coat over it I see what it looks like for myself! Karen tried it out, if you are interested click the link to her blog above.
Also random thought, I just realized Finger Paints marked theURL for their site on the bottle as seen in the photo below, good promotion I guess! I checked out the link, however, and the site does not exist lol.