If you recall in my last post I didn't apply topcoat to my Push and Shove stamped mani. I WAS going to add a topcoat after I took the photo, but didn't want to smear anything. A few minutes later and a quick visit to the bathroom and it had almost all flaked off! I highly suggest adding a top coat shortly after stamping Push and Shove in order for the polish to stay on your nails! FYI - I have tested NYC In A New York Minute quick dry topcoat and noticed the slightest dulling of the high chrome shine. Let me know if you know a top coat that does not dull the effect.
I decided to test out Push and Shove again, this time with colour blocking. I was inspired my Gwen's nails in the promo for OPI's latest colab/collection. I used Zoya Storm as my base (again) and Push and Shove for the colour blocking. I basically applied striping tape to my nails in the shapes I wanted and filled them in carefully and quickly with the chrome polish. Be sure to move fast if you try this out, Push and Shoves dries quickly and you want to remove the tape before it dries.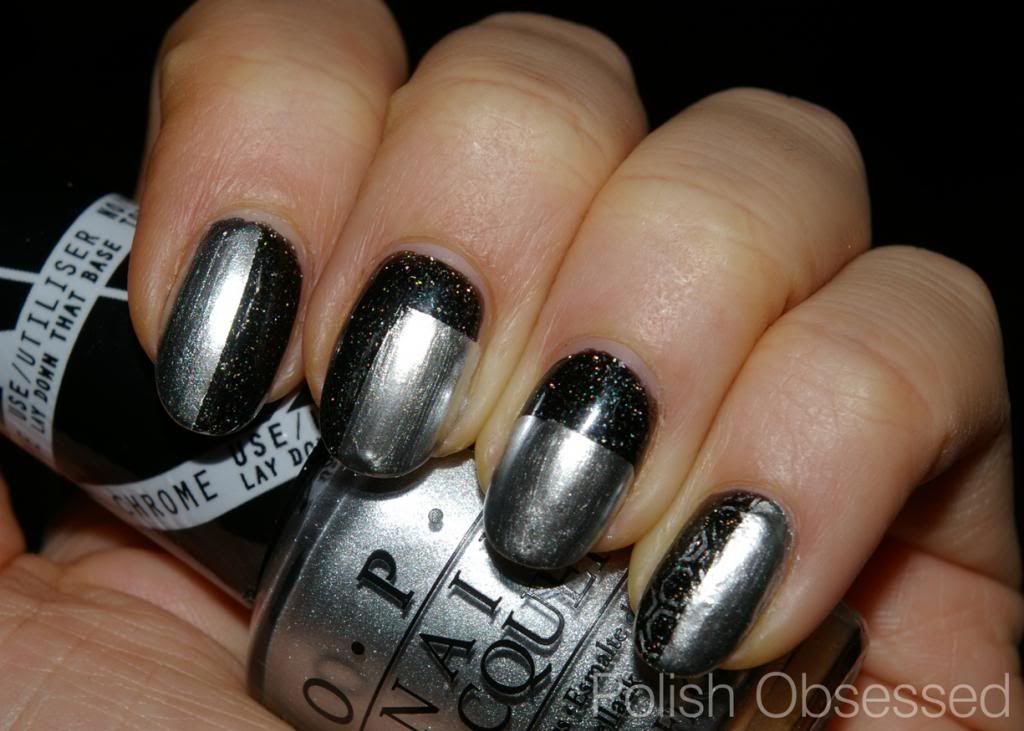 I taped off different sections than what was shown on Gwen's nails, I wanted to be a little more abstract with it. The result is pretty fun, a sparkly black base with a mirror chrome sections over top. Application with Push and Shove can be troublesome so I had to move quick with medium, even strokes. I did not apply top coat because I don't intend on wearing this combo for too long, it was more of a test. After the first day of wear I didn't experience any large chips, just slight tip wear.
What do you think of Push and Shove? Any personal tips for flawless application?