Can you believe how close we are to spring right now? Daylight savings was just this past weekend! The weather was actually more spring-like, earlier in the week, I got in my first outdoor run of the year! Notice the wet wood on my deck and the last of the snow melting away :)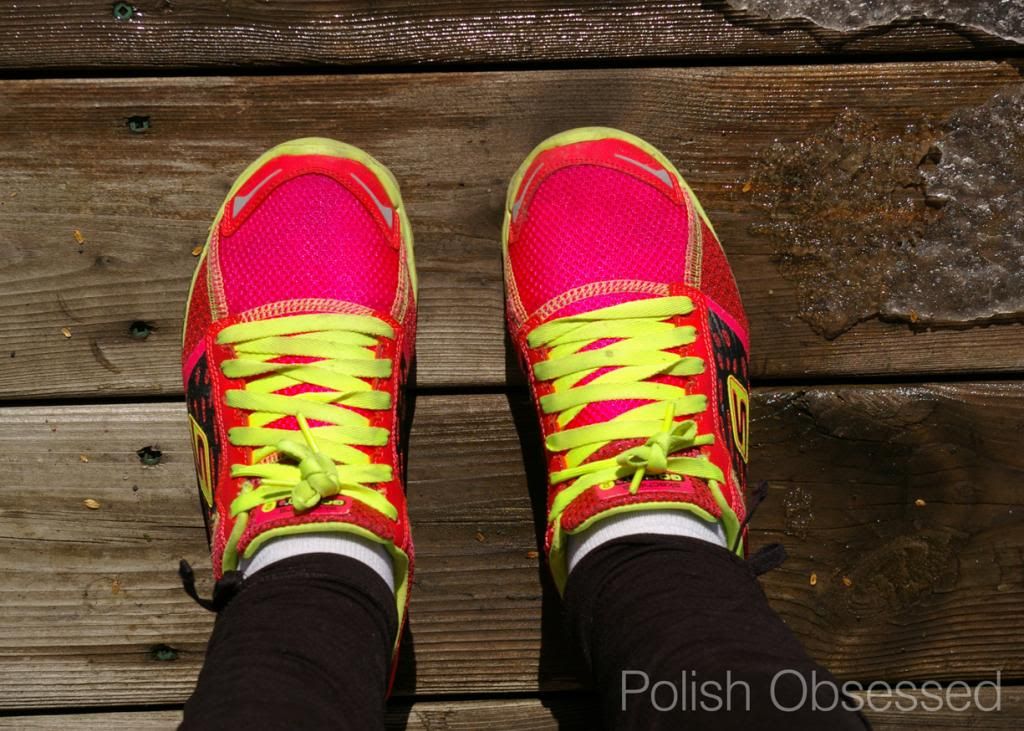 .... Unfortunately we just got MORE snow yesterday and today is absolutely bone chilling! At I enjoyed the weather wihle we had it, plus I have some new China Glaze polish to get me in to the spring mind set.
China Glaze has consistently put out awesome spring collections since I have been collecting, starting with the Up and Away collection. Last year I didn't pick up too many at first, but eventually gave in and got some late last year! I had been waiting for Sally's to put out the spring display, went there the first of March, they day they put them out and they were totally picked over by the time I got there around 4pm! Can you believe it! They were nice enough to check the back for me but they had more of the same that was already on display. Luckily I did pick up four of my faves, I think there are two or three other I will need to hunt down before they vanish!
Here is part one of my picks, from left to right, Don't Honk Your Thorn, Metro Pollen-Tin.
Don't Honk Your Thorn is a light beige neutral with the slightest hint of silvery white shimmer... and a confusing pun of a name lol. I can be kind of a sucker for nudes and neutrals so I knew ahead of time wanted to try this one out.
Metro Pollen-Tin is definitely very unique in my collection, the original swatches I saw looked more mustard/taxicab yellow, while in person it is much more orange based. Think China Glaze Sun Worshiper without being neon. That being said, it is bright and does dry to a matte/satin finish.
Next two are Petal to the Metal and Lotus Begin.
Petal to The Metal is a bright pink with a hint of coral. This is another bright shade that borders on being a neon and dried to a matte/satin finish.
Lotus Begin is my favourite so far out of these four polishes. It also reminds me of another China Glaze neon from this past summer, That's Shore Bright. Side by side you can see Lotus Begin is more blue based and lighter, a more lavender, pastel version. It also highly pigmented and dried to a matte/satin finish.
The others I plan on picking up soon, and hope in include as a follow up to this post, include Grass is Lime Greener, At Vase Value and possibly Spring In My Step. Grass is Lime Greener, another awkward name, was the one I wanted the most in this whole collection, so I hope when I find it, it lives up to the expectations I have for it!